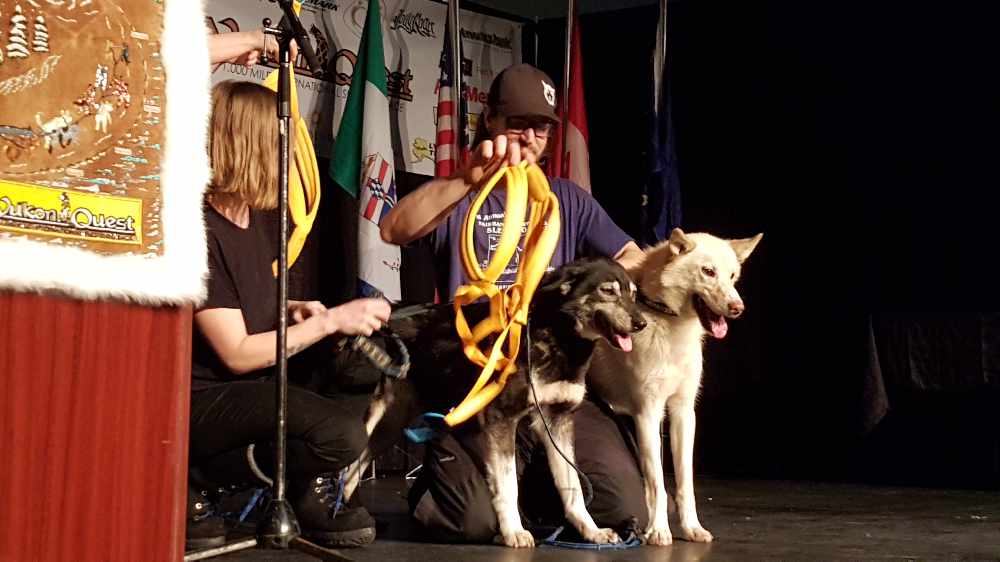 Yukon Quest Champion Brent Sass and his lead dogs Morello and Woody receive the Golden Harness award at Saturday night's finish and awards banquet in Whitehorse. Photo: Tim Kucharuk/CKRW.
The final musher crossed the finish line on Saturday as the 1,600-kilometre race honoured all participants at a banquet; organizers are already looking to next year.
The last three mushers crossed the finish line on the weekend to end the 37th Yukon Quest dog sled race.
Alberta's Pat Noddin took the ninth spot at 2:34 a.m. Saturday with 10 dogs. Whitehorse musher Rob Cooke finished in the 10th spot at 9:07 a.m. Saturday with all 14 Siberian Huskies on the line.
Cooke says he ran into some overflow on the Takhini River north of Whitehorse which left his race in peril.
"My boots were full of water, and I could feel (my feet) going numb, and I was starting getting super cold I thought I was getting hypothermia," Cooke said. "I didn't think at that point I could safely make a 20 mile run to Whitehorse."
Cooke says he was able to get the dogs off the river and bedded down for a few hours. He consulted with race officials before continuing.
Red Lantern Olivia Webster pulled into Shipyards Park at 7:58 p.m. Saturday with nine dogs. She was met at the finish line by her grandfather Leroy Shank, who was also one of the founders of the Yukon Quest.
"I guess I've always been a grandpa's girl," Webster told those gathered at the finish line. "He's my best friend so I kind of wanted to be like him and so I did it. It's one of the best days of my life."
"I still can't believe I did it. I'm like what else am I going to get away with?"
Her partner and handler, two-time quest champion Hugh Neff, was also waiting for her.
Two time @theyukonquest champion Hugh Neff with Leroy Shank. Both were waiting for Webster at the finish. Neff was a handler for Webster. #YQ2020 pic.twitter.com/b6mAv3EqLN

— Tim Kucharuk (@TimKucharuk) February 16, 2020
Like Shank, after he finished his race in 1987, Webster went directly to the finish banquet, where she was greeted with a rousing ovation by the other mushers.
Finish And Awards Banquet
The Quest then handed out the hardware to officially cap off the race.
Saturday night's banquet saw each musher come up to the podium and recount stories from the trail and give their thank you's before the award winners were named.
Three-time Champion Allen Moore talked about some of the hallucinations he saw on the trail, then had a surprise announcement this was going to be his last quest.
"That's the only two years (I've hallucinated)--my first, and this is going to be my last," an emotional Moore said to mutters of 'awe' and 'no' from the crowd. "(I also) ducked a lot of things this year, and I think it's due to my lack of training; So there you go."
Moore was then called back to the stage to present this year's champion Brent Sass with a new champions trophy.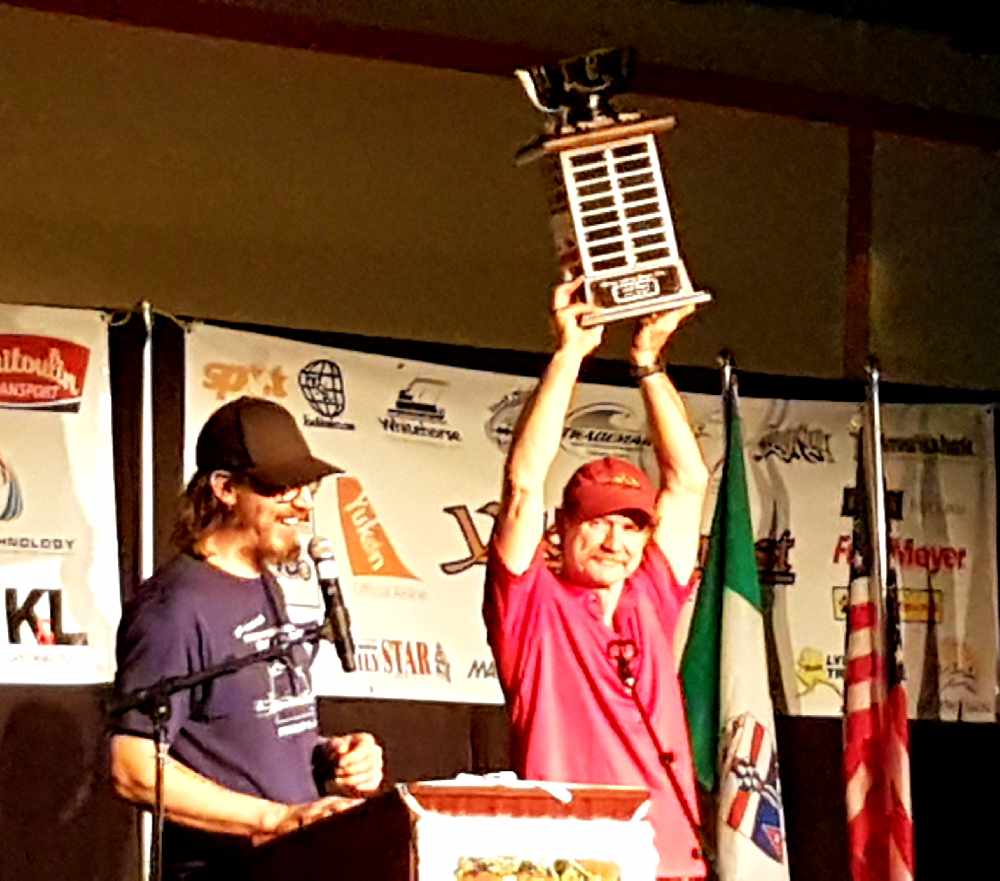 (Moore hoists the trophy before passing it over to Sass at Saturday's finish banquet. Photo: Tim Kucharuk/CKRW.)
Sass took the stage and thanked his dogs.
"They were amazing," Sass said. "Nine of the dogs in this race, were in my race last year. Five of them were two-year-olds last year, they've run two one-thousand mile races and now they're champions in two one-thousand mile races. They're amazing dogs."
Sass then brought his whole crew up on stage to hoist the trophy.
He also returned to the stage to accept the Joe Fellers Dawson City Award of two ounces of Klondike Placer Gold for being the first to Dawson and to complete the race. His lead dogs Morello and Woody also received custom-made golden harnesses and steaks as his team picked up the Golden Harness Award.
Time to chow down! Lead dogs Morello and Woody from Brent Sass' @theyukonquest champion team get the Golden Harness Award. #YQ2020 pic.twitter.com/9AxeGGctl2

— Tim Kucharuk (@TimKucharuk) February 16, 2020
Rookie of the Year honours went to Nora Själin for finishing seventh. She also picked up the Challenge of the North Award.
The Sportsmanship Award went to Yukon musher Rob Cooke. Cody Strathe won Veterinarian's Choice Award. Olivia Webster was presented with the Red Lantern as the last official finisher.
What's Next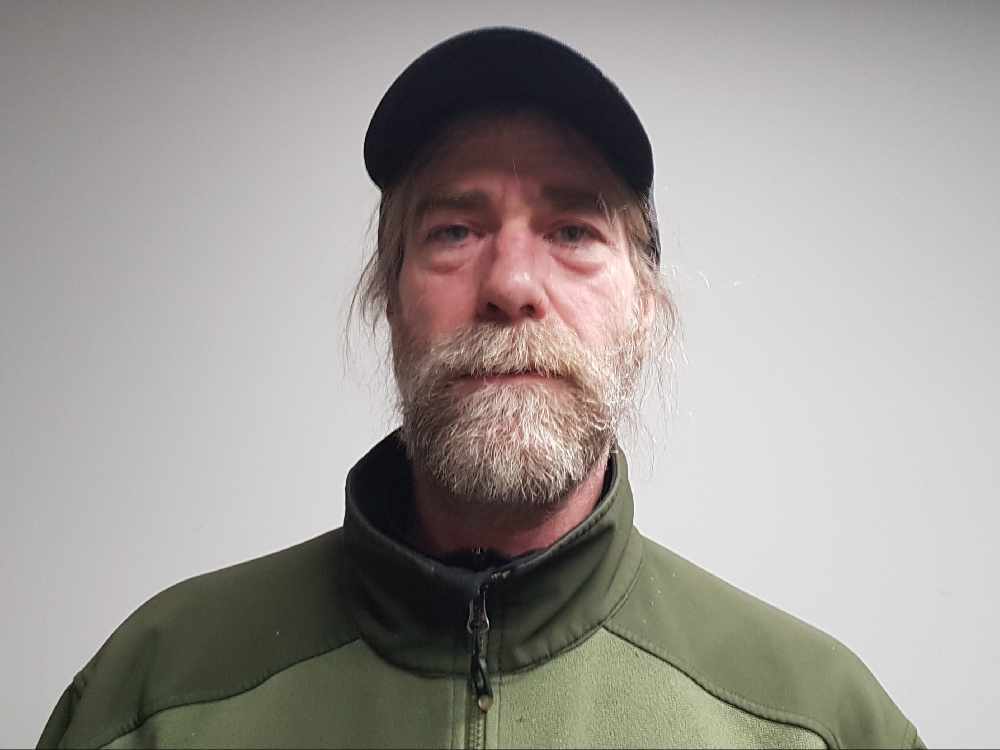 (Race Marshal Peter Reuter. Photo: Tim Kucharuk/CKRW.)
Quest officials say they will spend some time debriefing what happened during this year's race.
Race Marshal Peter Reuter says behind the scenes, things went really well.
"What a professional field of mushers they all came in with beautiful-looking dog teams," Reuter said. "The entire race organization that I worked with, all the volunteers, the vets. Everybody really put everything into it, so it went really smoothly."
Reuter, who runs a kennel of his own, says it was a race of attrition this year as mushers had to deal with the cold, snow and wind.
He says organizers will go over what happened, and what they can do better.
"Over the course of the next month or so we're going to be compiling reports, and bringing everything together and coming up with a clear picture of what we can do better in the future and what actually went really well this year."
Reuter says includes attracting more mushers to the race. 15 started this year's Quest, which numbered half of the 2019 race.