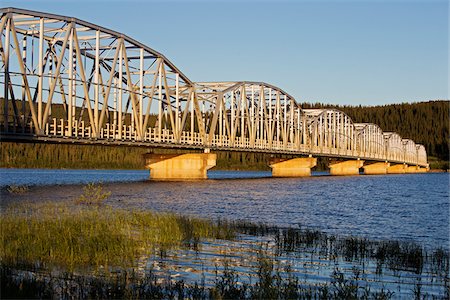 The Nisutlin Bay Bridge in Teslin. Photo: Ed Gifford/Stock Photo.
The Yukon Government says it is working with the Teslin Tlingit Council to come up with a plan to refurbish the Nisutlin Bay Bridge.
It's being called the development of a model to deliver infrastructure projects alongside Yukon First Nations.
Highways and Public Works minister Richard Mostyn says a project charter has been signed with the Teslin Tlingit Council to reconstruct the Nisutlin Bay Bridge.
The announcement came during a ministerial statement in the Legislative Assembly on Tuesday.
"The shared goal of the Yukon government and the Teslin Tlingit Council is clear: a safer, more reliable, more sustainable structure that can accommodate increases in traffic while also improving safe passage for pedestrians and cyclists." Mostyn told the house.
Mostyn says the tender should go out next year, and the work completed by the end of 2023.
"An implementation plan will be developed that will detail the procurement strategy, specify the approach that will be used to deliver the project, and outline the Teslin Tlingit Council's role in providing input for procurement documents and its advisory role in reviewing proposal evaluations." Mostyn said.
Funding for the project will come in part from the Small Communities Fund portion of the federal government's New Building Canada Fund.
The 584 metre bridge was built in 1953 by National Defence.