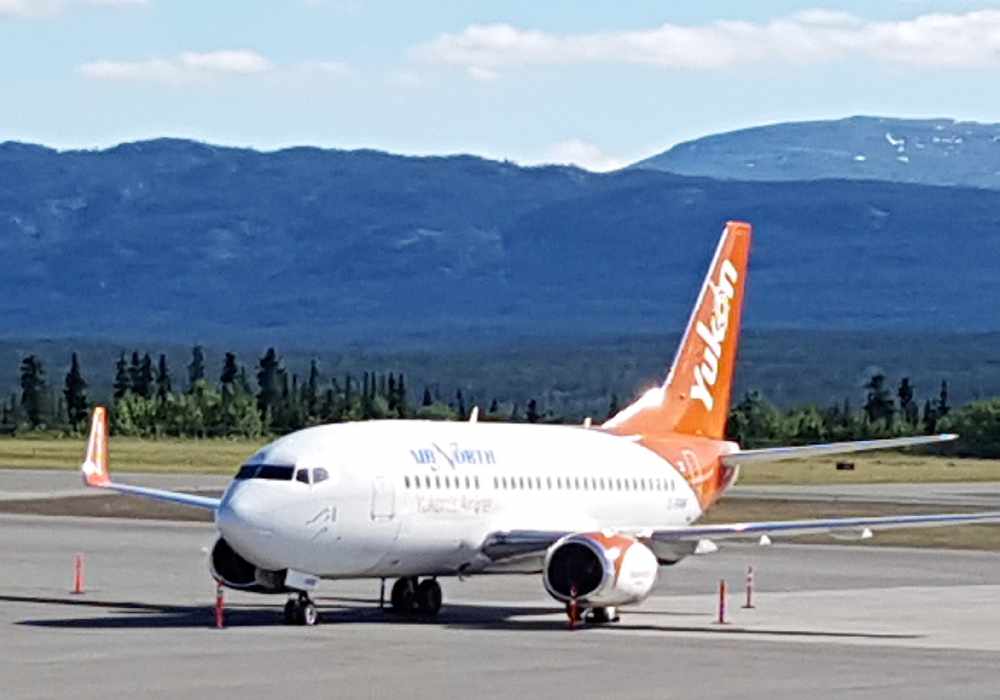 Air North has cut back the number of flights and employees due to the pandemic. Photo: Tim Kucharuk/CKRW file.
Airline says it has had to cut staff, flights, implement health measures; property tax, transit discussed at city council; CTFN election on hold, but Dawson ice contest a go online.
Air North says because of COVID-19 they have trimmed their workforce from over 400 a month ago to 150.
President Joe Sparling says the decrease is due to a drop in demand.
"(We're) basically down to one jet flight a day to Vancouver, and one north-schedule flight to the communities and that's not even seven days a week probably five days a week is what we're looking at now perhaps even less," Sparling said.
"We're trying to get the capacity in line with the level of demand and the level of demand is dropping by the day."
As for dealing with travel restrictions, Sparling says Air North has been providing passenger manifests to the Vuntut Gwitchin First Nation, and the Northwest Territories Government, with Yukon also ramping up screening measures.
Sparling says the manifests helped identify the Quebec couple who landed in Old Crow on Friday.
He says as per new federal regulations, Air North is now asking health questions of all passengers, and if any are showing symptoms, they will not be allowed to board.
City COVID Response Update
The City of Whitehorse says it's looking to hear back from the Yukon Government about any property tax relief for residents during the COVID-19 pandemic.
The matter was brought up again at Monday night's council meeting by Councillor Samson Hartland. City Manager Linda Rapp told councillors she contacted YG earlier in the day, and so far nothing has been confirmed.
She hopes to hear something soon as property tax notices will be sent out in the near future.
"Ideally, we would like to be able to include the most relevant information in that communication," Rapp said. "We requested they get back to us within the week if possible.
Hartland also asked about Transit Service, and if any riders had to be turned away as the bus capacity limit with physical distracting measures is now 12.
Community Services Manager Jeff O'Farrell says three people have run into this issue so far. O'Farrell says during peak times, they can wait another 20 minutes for the next bus.
"We're also recommending that if they can't wait for the next bus, they make alternate travel arrangements," O'Farrell told council.
"They also have the option of calling Whitehorse Transit and if the Handi-Bus is available we will send the Handi-Bus to that bus stop to pick up those riders."
O'Farrell says the three riders were eventually picked up by the handi bus.
CTFN Election Postponed
The Carcross/Tagish First Nation is postponing next month's general election due to COVID-19.
The First Nation was to elect a chief on May 15th, but a notice says the vote has been postponed until further notice.
The First Nation's Executive Council says at the end of April they will review the feasibility of holding an election.
Dawson Ice Contest Still A Go
One Dawson City tradition will go ahead despite the COVID-19 pandemic.
The Imperial Order Daughters of the Empire Dawson Chapter says the Ice Guessing Lottery will still take place. Vice-President Kyla MacArthur says the contest will be conducted online.
"We're really big advocates for people staying safe and for social distancing," MacArthur said. "So we decided as an organization that we wanted to make sure that people could get their guesses in but in a safe way."
"We certainly didn't want to encourage anyone to go out and seek out physical tickets, and we certainly didn't want to put our members at risk."
This will be the 125th year of the contest to guess when the Yukon River ice will give way at Dawson. The IODE has been running the contest since 1940.
A total of 5,000 tickets are available. The guessing deadline is April 15th.
MacArthur says it's the groups biggest fundraiser of the year with proceeds going to various community initiatives.