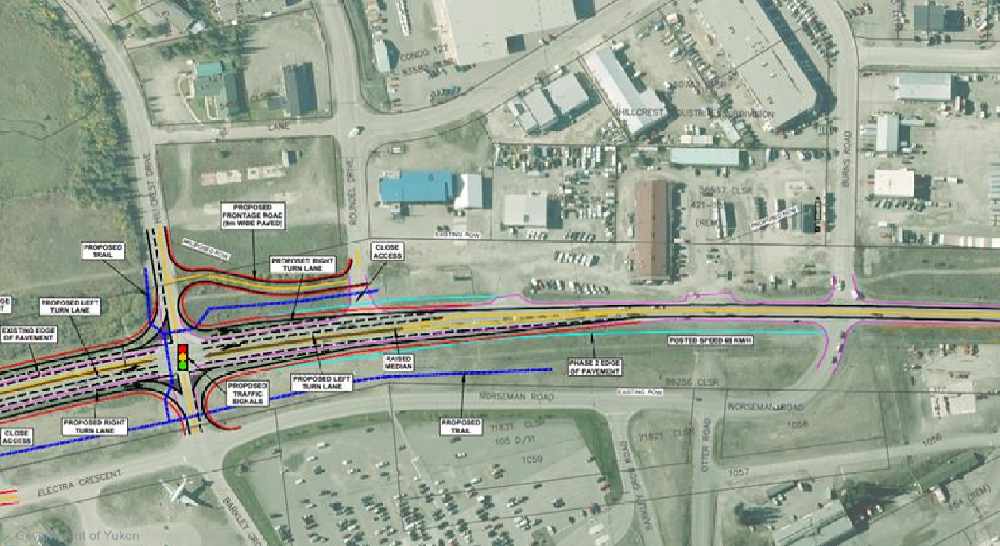 The plan to upgrade the Hillcrest Drive intersection. Photo: Highways and Public Works.
Expanding on this year's construction in the Range Road area, Highways and Public Works are laying out a three-year plan to continue improvements through Lodestar Lane.
Yukon's Highways and Public Works department are planning a major construction project which would widen the Alaska Highway between the airport and Hillcrest.
The project will also see the installation of lights at Burns Road, and Hillcrest Drive, with crosswalks at the lights. Widening would continue to Lodestar Lane.
Transportation Division Acting Assistant Deputy Minister Paul Murchison says the focus of the $12 million project is safety.
"People that know driving through the Hillcrest area, there's a lot of accesses through there," Murchison said. "Those accesses are points of conflict with people coming in and out of those accesses. So a number of accesses will be eliminated and connecting through frontage roads to signalized intersections."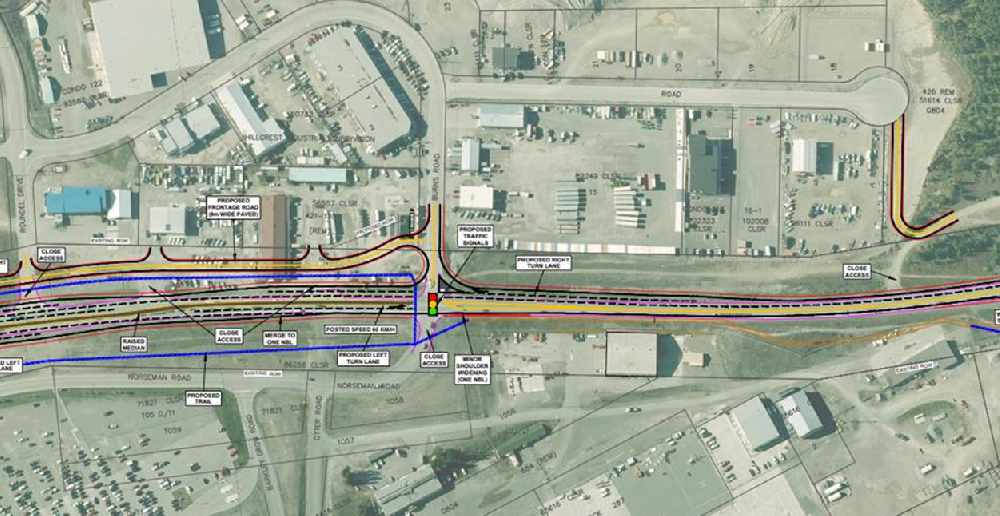 Murchison says one frontage road would go through the Airport Chalet, (see plan above from HPW) and he says YG is working on options with the chalet owners.
"Our intent is to minimize the negative impact on their business," Murchison said. "We have been working closely, and will continue working closely with the Airport Chalet, and negotiating how they manage their facility as we lead up to constructing the frontage road there."
Murchison says the chalet building is on the highway right-of-way so no expropriation is needed. He said only a small parcel of the chalet's land would need to be purchased at market value to allow for a extra-wide turning lane.
The project is going through the assessment board process, with a tender expected to be issued this winter. Construction on the three-year project would begin next spring.
Area residents and businesses got a look at the plans at a recent open house.