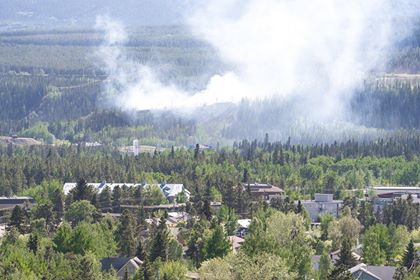 PHOTO: smoke rising from the crash site in Whitehorse. By Jim Petelski / Facebook
The two men whose lives were claimed in Monday afternoon's plane crash in Whitehorse have been named.
The names of the two men that died in a plane crash in Whitehorse are being released by the Yukon Coroner's service.
56-year-old Charles Eric Benson of Palmer, Alaska and 58-year-old Jeffrey Brian Babcock of Wasilla Alaska, both were pronounced dead at the scene of yesterday's crash.
The two men had left Minnesota on Saturday, May 25th after purchasing the plane.
They arrived in Whitehorse after stopping in Watson Lake at 4:10 pm on Monday, and had left the runway at 5:29 pm.
The Anchorage-bound plane left the runway and went down in a forested area just 600 metres from the south end of the Whitehorse airport runway.
It is believed that Babcock was piloting at the time of the incident, but the plane was registered to Benson.
The cause of the crash has yet to be determined, but the investigation is still ongoing.