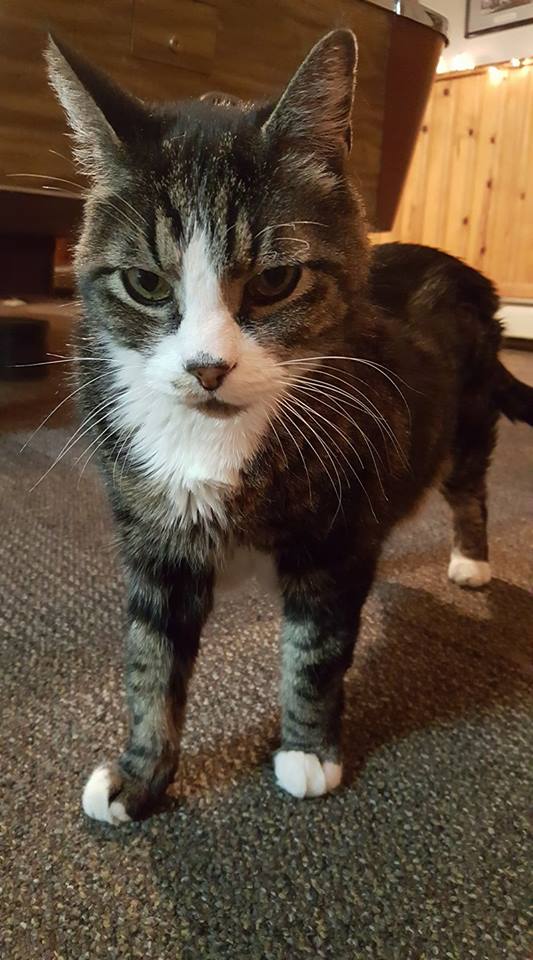 Bob the cat in a photo from 2018. Photo: Discover Atlin Facebook page.
A memorial is planned for the 16-year-old feline who called the Atlin Recreation Centre his home and was well-known in the community.
The treasurer of the Atlin Recreation Centre says the death of Bob the cat this week is like losing a co-worker.
Bob, who was a fixture around the rec centre for 16 years was hit by a vehicle Monday morning.
Roger Gallagher says Bob welcomed locals and tourists alike.
"He was a part of pretty much every function that the rec centre would accommodate," Gallagher said. "You would see him up at bingo night or a dance night, he would frequent the lounge all the time, had his own chair that was named after him. Several members over the years bought him memberships to the rec centre."
Gallagher says his death is felt around the community.
"Not to have him around, and to see him when you come into the establishment either the community hall or the lounge, people are certainly saddened and wish he would have (gone) a different way," Gallagher said. "Sadness around the whole community."
Gallagher says a memorial is being planned for November 16th, which will feature a Whitehorse band appropriately named the Bobcats.
He says a book about Bob in the works by local artist Cass Collins will also be available.
A post announcing his death on the Discover Atlin Facebook Page says he will be missed in the bar and striding across the intersection of Sinclair and Fourth.
The post also says he owned the town and earned that title.
Many people expressed their sadness on the post and remembered him as a cool cat who will be missed.