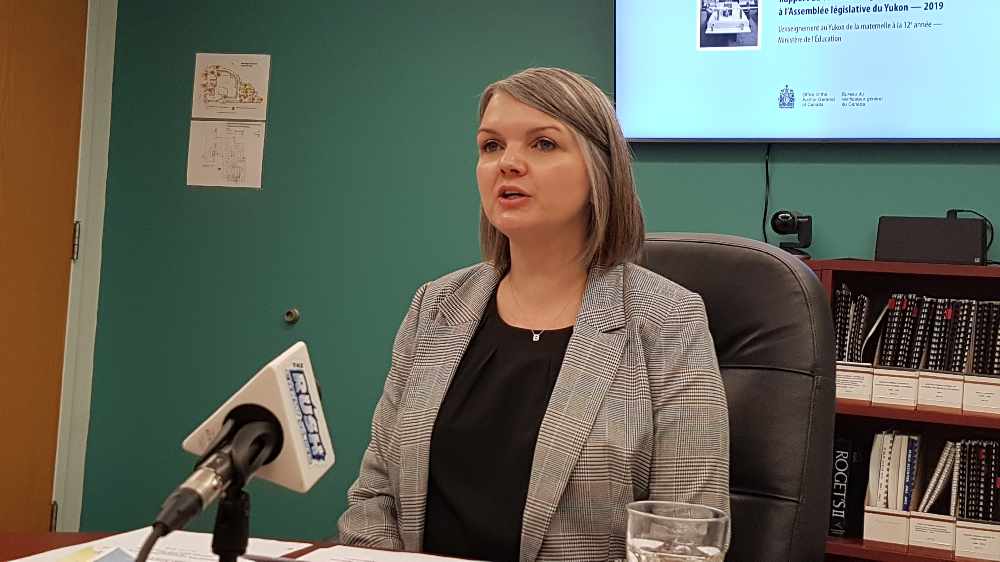 The report's Principal Auditor Jo Anne Schwartz delivers her opening statement to reporters Monday afternoon. Photo: Tim Kucharuk/CKRW.
The report finds there are still substantial gaps in student success; YG commits to fixing problems.
Canada's Auditor General says the Yukon Government's Department of Education needs to get to the root causes of why gaps exist in the Kindergarten to Grade 12 public education system.
Principal Auditor Jo Ann Schwartz's report released Tuesday found those gaps in student outcomes and lack of inclusiveness were most prevalent in First Nations, special needs, and rural students.
She says since the last audit 10 years ago, the department has done little to address the root causes, adding the department also did not know if its programs met the needs of students.
"Without this knowledge, the department had no way of knowing whether its supports for students were working to improve student outcomes, or if it was focusing its time and resources where it was needed most." Schwartz told reporters Monday afternoon.
Schwartz says the auditor has made seven recommendations, which the report has tried to make easy to implement.
"What we recommend is the first thing they do is come up with a strategy of how they are going to identify the root causes of why these gaps exist," Schwartz said. "Because without understanding the root causes of the gaps is very difficult for them to put steps or implement any programs in place that will help to decrease the gap."
The recommendations also include working with First Nations to come up with a strategic plan, defining targets, and providing more training and support.
Yukon Government Reaction
The Yukon Government says they accept the Auditor General's recommendations.
Education Minister Tracy-Anne McPhee says the government is committed to modernizing the system and working with partners to ensure all students have the support they need to succeed.
McPhee says the department is working with First Nations, and others in education on the auditor's recommendations.
She adds there's also work to renew focus on priorities identified in the Joint Education Action Plan with First Nations.