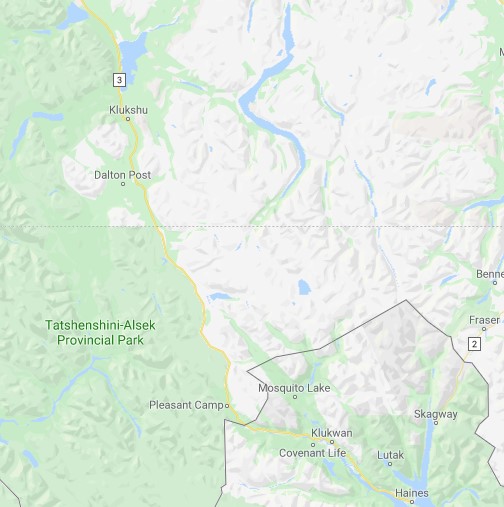 The avalanche happened in Tatshenshini-Alsek Provincial Park in northwestern BC. Map: Google Maps.
The two from Haines were part of a three-person group snowboarding in BC's Tatshenshini-Alsek Provincial Park.
The BC Coroners Service and the Haines, Alaska Volunteer Fire Department say two men in their early 20s are dead after being swept up in an avalanche in the Haines Pass.
Both say the avalanche happened Monday in BC's Tatshenshini-Alsek Provincial Park just south of the Yukon border.
Andy Watson of the BC Coroners Service says the two were in a group of three men snowboarding in the area.
The Fire Department says in a statement the men were all friends from Haines. No names will be released until next of kin are notified.
The statement says a Search and Rescue team from Haines Junction were dispatched, along with RCMP, other emergency personnel and a rescue helicopter.
The Fire Department says arrangements are being made to transport the deceased back home to the US.
The Coroners Service says it's investigating to determine how, where, when and by what means they came to their deaths.