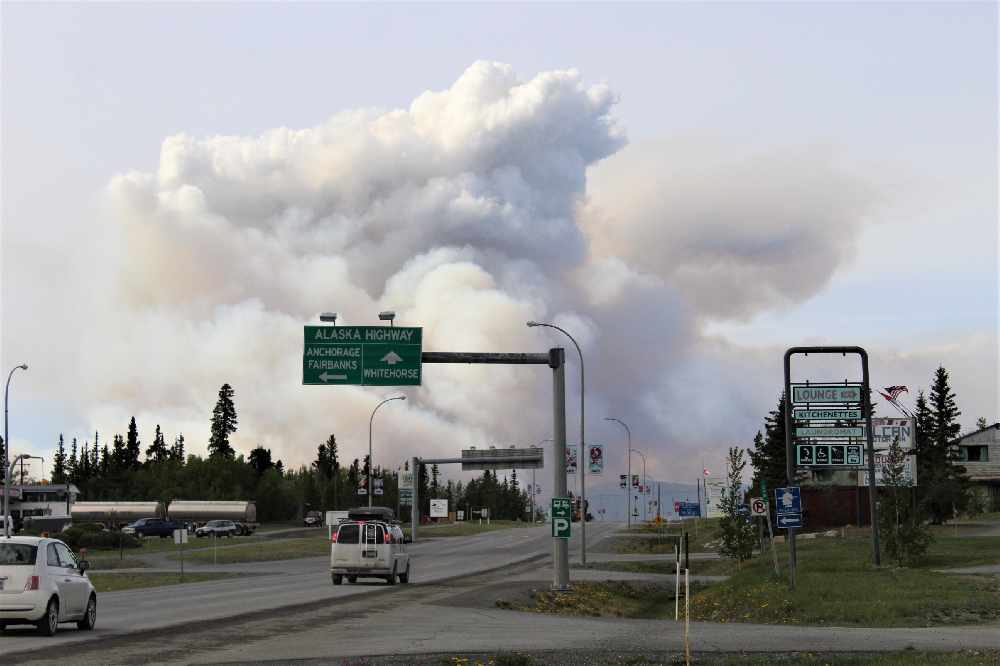 Plumes of smoke from the Bear Creek fire, visible to the north from the roadside in Haines Junction. By John Kennedy / CKRW
Amid growing concern over the Bear Creek fire, and a number of fires in the territory the Yukon Government have issued a fire ban for Southern Yukon.
The Bear Creek Fire North of Haines Junction has grown to 652 hectares.
The morning update from Yukon Wildland Fire Management says 24 wildland firefighters, bulldozers, and 4 helicopters are continuing to secure the southern base and eastern flank of the fire as it rages on 9 kilometres north of the village.
As of now, the village of Haines Junction is NOT under an evacuation alert.
The fire danger rating for the Kluane region is still listed as extreme, and a fire ban for Southern Yukon and residents in the Robert Campbell Highway area has been issued by the Yukon Government.
The affected areas are Whitehorse, Teslin, Haines Junction, Ross River, and Watson Lake.
All open fires, including campfires and fireworks, are covered by the ban, but YG campground fireplaces, stoves or other facilities are exempt from the ban, provided their usage has a purpose.
Wildland Fire Management officials will be monitoring the situation, and ensuring residents abide by the ban.
Wildland Fire Management says an extended amount of rain is needed to address the dry period this spring.