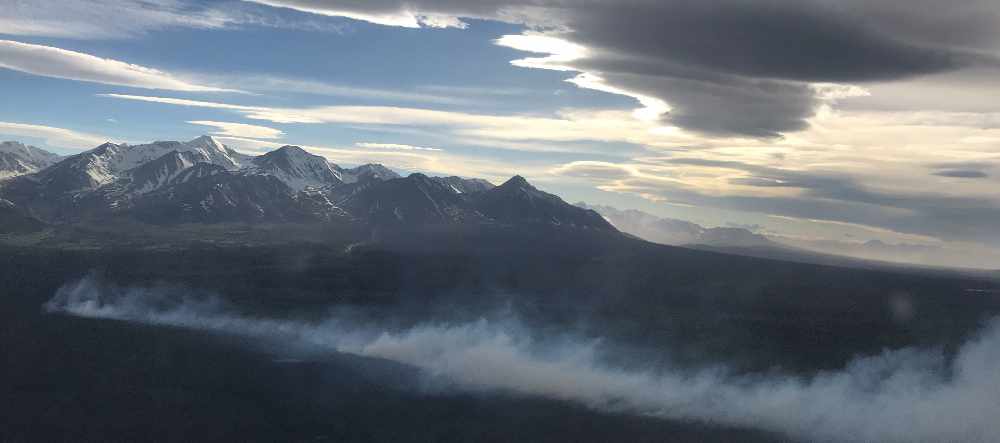 An aerial view of the wildfire, northwest of Haines Junction. Photo by Protective Services Twitter
Yukon Wildland Fire Management says consistent winds from the south mean further growth along the Bear Creek fire's path is expected in the coming days.
The Bear Creek fire located just northwest of Haines junction has grown to 137 hectares in size.
What was once a 5-hectare fire, grew overnight into a massive blaze, with no signs of slowing down.
Wildland Fire Information officer Mike Fancie says the fire isn't posing a threat to any people or known structures.
"Strong Winds from the Alsek Valley south of the fire has driven the fire primarily northwest right now, so it's spreading up and away from the village of Haines Junction."
Fancie says the fire continues to be the top priority, and firefighters are using every tool at their disposal to combat it.
"Firefighters are using heavy equipment, as well as helicopter buckets, and hand tools. We're trying to do our best to contain the fire as best as we can, but unfortunately, for now, those winds from the south are limiting the effectiveness of our work."
This is the 26th fire this year in the territory, and the 19th caused by human-related activity.
(This is an updated story. The previous version is below, and original article has been deleted from website and social media.)
____________________
Yukon Wildland Fire Management says a wildfire north of Haines Junction is moving away from the community.
The human-caused Bear Creek Fire nine kilometres north of the village was sparked on Saturday.
As of Sunday afternoon, the fire was about 40 hectares in size, and aided by a south wind, was burning northwards out of control.
Wildland Fire says 15 firefighters, heavy equipment, three helicopters, and both air tanker group were actioning the fire.
Emergency officials say no people or property are at imminent risk, however, one sprinkler kit has been set up around one structure as a precaution.
The Champagne and Aishihik First Nation says their staff is on alert and standing by to help citizens if required.
The fire danger rating for the Haines Junction area is listed as extreme.