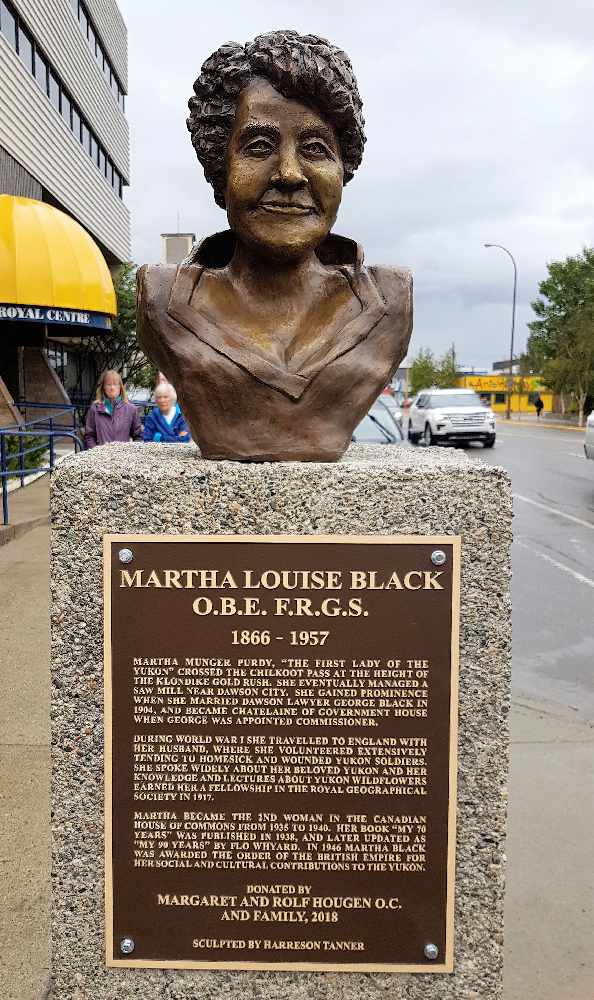 The bust was just installed last August. Photo: Tim Kucharuk/CKRW file.
The Martha Black bust at the corner of 4th Avenue and Main Street was vandalized recently and has been taken away to be fixed up.
A piece of artwork in downtown Whitehorse honouring the second woman MP ever elected to the House of Commons is out of commission.
The Martha Black bronze bust in front of the Royal Bank was vandalized on the weekend, and the likeness of the former MP has been removed for repairs.
Rolf and Marg Hougen originally commissioned the artwork, which was sculpted by Harreson Tanner, and unveiled last August.
The city thought the bust had been stolen Wednesday afternoon, however it was found the Hougen Group of Companies had a contractor take down the bust to be fixed up.
The city's communications manager Myles Dolphin says the epoxy used to attached the bust to the concrete base needs warmer weather to work, so it's likely Black won't be returned to her perch until the spring or summer.
The Black sculpture is one of a number of sculpted Yukon historical figures along or near Main Street.
Others include Pierre Burton, Jack London, Ted Harrison, Robert Service, Sam Steele and Angela Sidney.
(The empty pedestal Wednesday morning. Photo: Tim Kucharuk/CKRW)