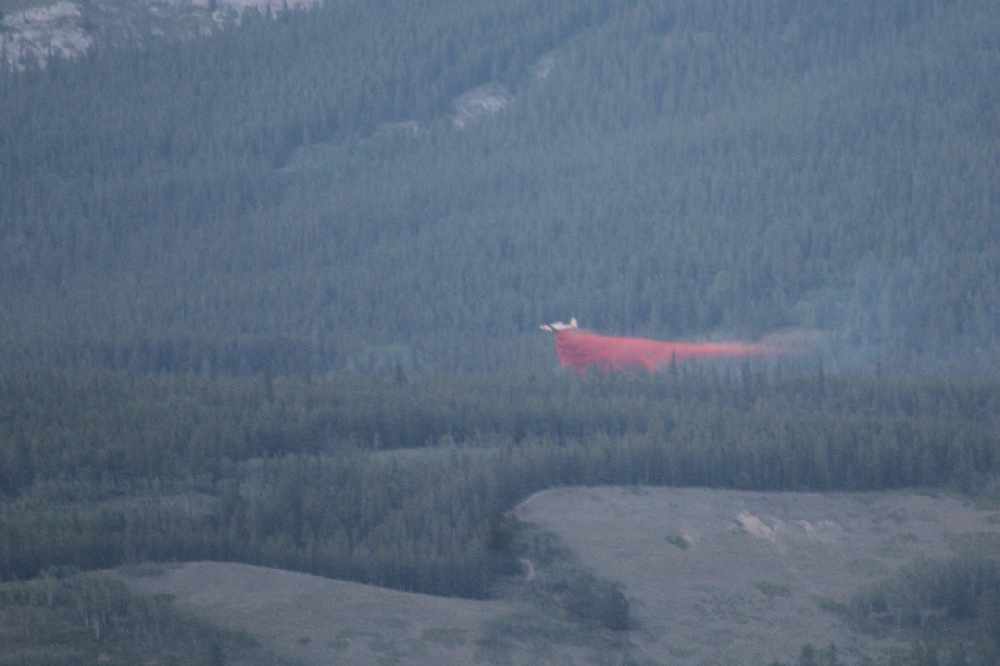 An air tanker with Yukon Wildland Fire Management makes a drop on the Grey Mountain fire Sunday night. Photo: John Kennedy/CKRW.
Firefighters have been battling blazes in Whitehorse, the Snag Campground area, and in central Yukon.
A structure fire on Grey Mountain in Whitehorse turned into a .01 hectare blaze which was quickly extinguished.
City firefighters, as well as Yukon Wildland Fire Management, responded to the area of the gun range after 9 p.m. with a helicopter and air tanker dropping water and retardant on the flames.
The smoke was highly visible from Riverdale and southern parts of the city. As of 11:30 p.m. the fire was under control and was not expected to spread any further.
Police closed Grey Mountain Road as firefighters fought the blaze. No word on what caused the structure fire.
The view of Riverdale and Grey Mountain Road from parking lot of the SS Klondike. Some smoke visible. Spotter plane and helicopter in the area. #Whitehorse pic.twitter.com/BzZDhIG2V4

— Tim Kucharuk (@TimKucharuk) July 8, 2019
Snag Campground fire
A fire near the Snag Campground in western Yukon on Saturday resulted in the campground being evacuated and the Alaska Highway closed for six hours.
Wildland Fire Management says the blaze has since grown to 617 hectares and is being fought on the ground, and by air. More support will be arriving in the next few days.
It's spreading to the northeast away from the highway and Beaver Creek. Yukon 511 says the highway is open, and a pilot vehicle is taking motorists through the area.
There's no word on a cause.
Fires in Central Yukon
Structural protections are in place near the Pelly Farm, and other structures continue to be assessed as the Volcano Mountain blaze burns six kilometres from Fort Selkirk.
Wildland Fire Management says the 2,400-hectare lightning-caused fire is on the north side of the Pelly and Yukon Rivers.
Work continues on the 70,000-hectare Pique Creek fire northwest of Stewart Crossing, with structural protections in place, and a dozer line being established from the Klondike Highway to the Mequeston Airstrip.
The out of control Hunker Summit fire southeast of Dawson is now 10,000 hectares in size. Work continues on the northwest portion of the perimeter, as the fire has moved to three kilometres from the Klondike Highway.
The fire danger rating for many parts of the territory is high or extreme. An air quality advisory remains in effect.