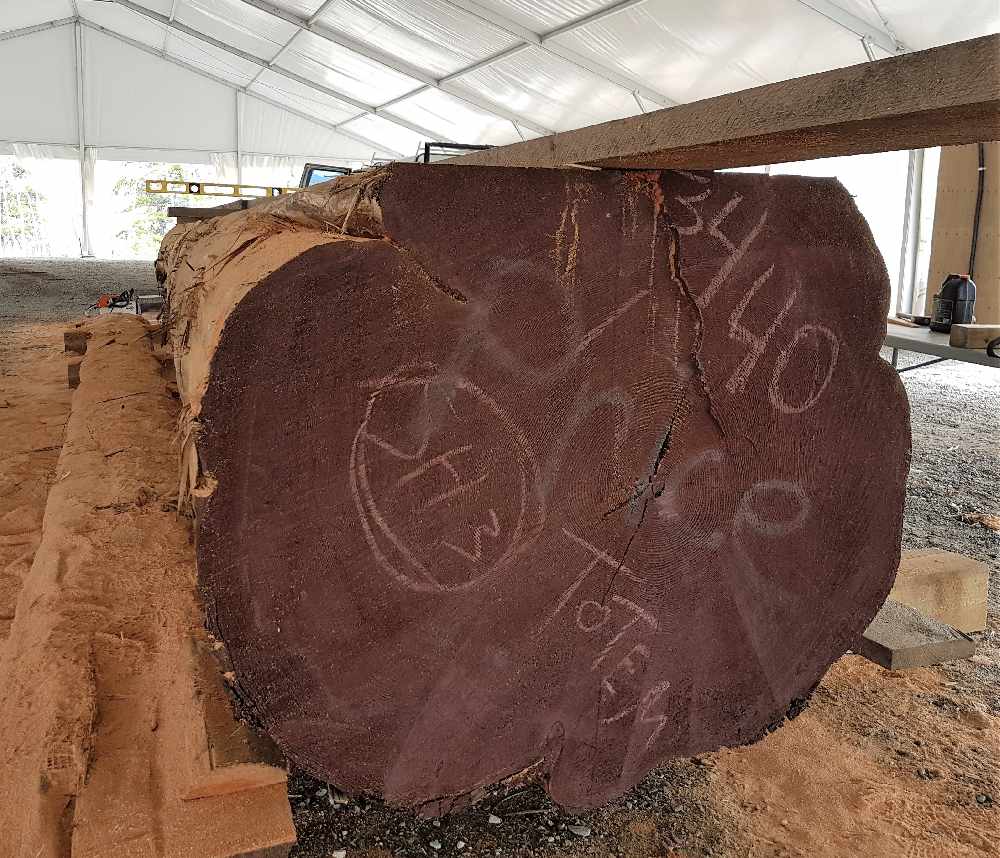 This log will be turned into a traditional Tlingit dugout canoe over the next two months. Photo: Tim Kucharuk/CKRW.
A Haines, Alaska Master Carver will spend the next few months sculpting a dugout canoe in time for a major First Nations celebration in late July.
A 450-year-old western red cedar tree from southeast Alaska is now in the process of being converted into a 30-foot traditional Tlingit dugout canoe in Carcross.
Accompanied by volunteers, Master Carver Wayne Price from Haines, Alaska transported the 4.5-foot diameter log from Prince of Wales Island to the southern Yukon community to carve the canoe in time for late July's Haa Kusteeyi celebration.
Price spent the weekend in a white tent outside the Learning Centre doing preliminary work.
"Putting a lot of thought into the layout (and) the right cuts we are going to make," Price said while taking a break to chat with the RUSH Saturday afternoon. "We're using a big chainsaw to cut some slabs. It takes longer to set it up than to actually do the cut."
"The chainsaw only does about 20 percent of the whole project, and all the rest is (done) by hand."
Price says dugout canoe carving not only promotes health and wellness but keeps the traditional transport method alive.
"People have a chance to be involved with the dugout," Price said. "You do all the journeys, and all that is done under the banner of wellness. You can give another choice."
"The culture that's taken care of us for 10,000 years, there's no reason we shouldn't doubt it to take care of us on into the future."
Master Carver Keith Wolfe Smarch with the Carcross/Tagish First Nation will work closely with Price on the final details including the design and colours of the canoe.
The major biennial celebration featuring Yukon and Alaska First Nations is set to start July 26th in Carcross.
(Below: Price at work Saturday afternoon. A completed dugout canoe sits in the background for reference. Photo: Tim Kucharuk/CKRW.)