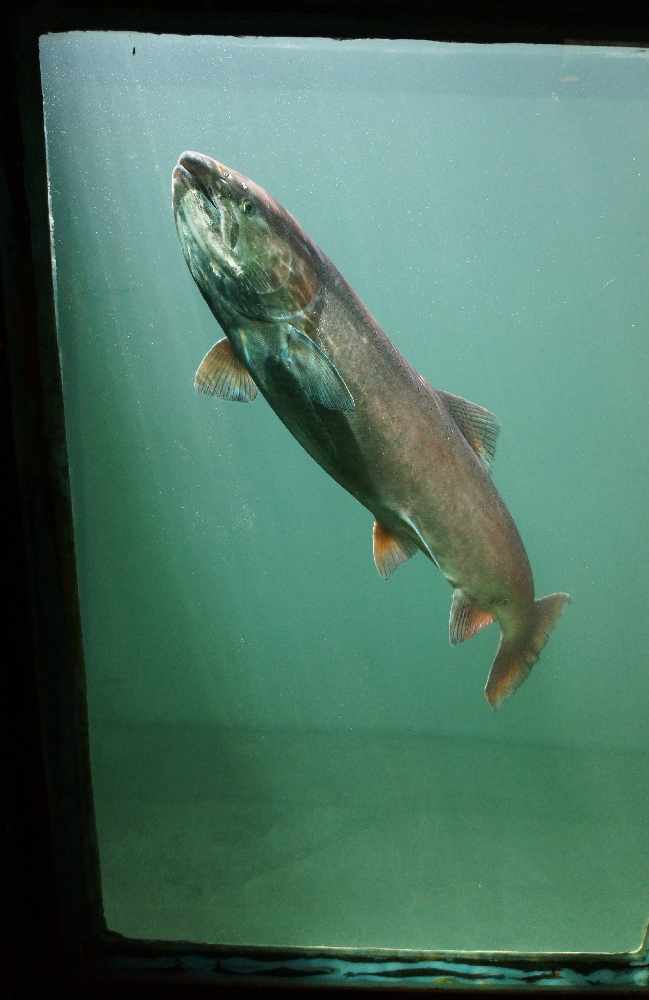 A Chinook Salmon at the Whitehorse Fish Ladder. Photo: Elizabeth MacDonald.
Yukon Salmon Sub-Committee Executive Director Elizabeth McDonald says the chinook salmon run through the Yukon River to Alaska is well below the escapement goal for this year.
High water levels are a factor in a low run of chinook salmon migrating through the Yukon River to Alaska this year.
Executive Director of the Yukon Salmon Sub-Committee Elizabeth McDonald says that while the water temperatures have not been abnormally high, high water levels can present their own set of challenges.
"This year they're essentially battling extra water to make it home, all along their migration route and even here in Canada, the water is higher as well. There are no worries regarding higher temperatures, we shouldn't see any heat-stress or in-river mortality from that, but we have seen the high waters delay the fish, and other effects on them as well such as exhaustion."
McDonald says because of the high water, the chinooks moving through Whitehorse will likely have less energy and have a difficult time getting through the Whitehorse Fish Ladder.
McDonald says it's been an unusual year for the Chinook run.
"The run is a little bit strange for Chinook, usually they kind of have a predictable pattern when they come into the mouth of the river but, this year they were very slow, very late and then had a sudden increase. There is a chance that we might see a bump of fish despite the low count, with potential for a better escapement."
McDonald says as of July 27th the run was at less than half of its goal for this year, and that the halfway point in the run has passed.
Additional reporting by Tim Kucharuk and Luke McGrath