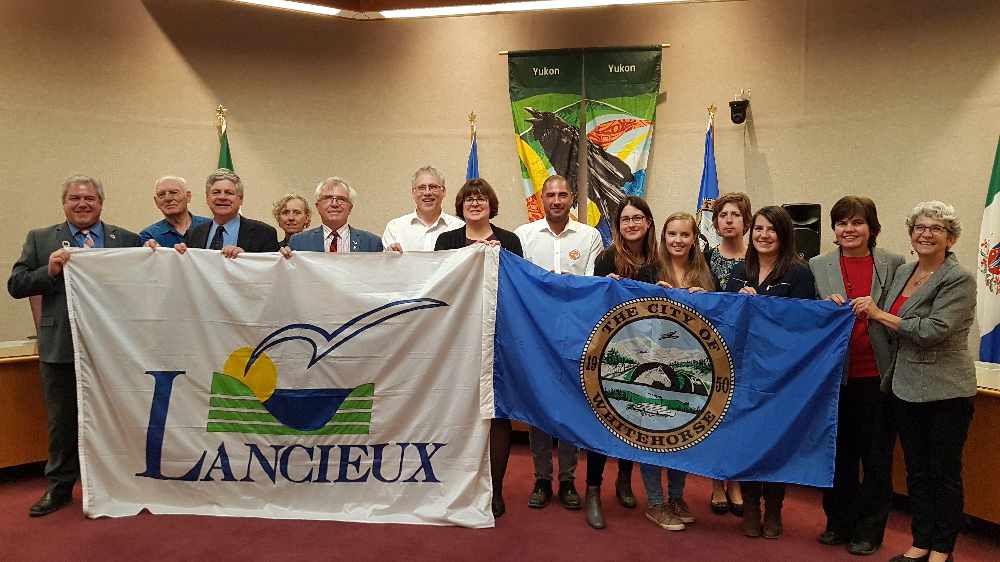 The City Of Whitehorse officials joins with Association franco-yukonaise members and ceremony spectators in honouring the Sister City relationship with Lancieux. By Tim Kuckaruk / CKRW
The ties of Yukon's francophone community and those of poet Robert Service to a town in France are being celebrated in Whitehorse on Friday.

The City of Whitehorse is honouring the francophone community, and Sister City ties with Lancieux, France.
A noon-hour ceremony in council chambers on Friday featured speeches about the 19-year relationship, and later a Lancieux flag raising outside City Hall.
Association franco-yukonaise President Jeanne Beaudoin says the relationship is important, as A-F-Y has been trying to forge closer ties with France since the 1990s.
"Because, the international francophonie is important in making the Yukon francophonie stronger and the Yukon is open to the world. Francophonie is included in that statement."
Lancieux was also the home of famous Yukon bard Robert Service, as he spent time in both communities.
Mayor Dan Curtis says the connection means a tremendous amount to the city.
"We've had a real connection thanks to Yann Herry and Marie Conan from Lancieux to keep that connectivity up, and having students from the Yukon, and businesses and individuals go and really represent."
Beaudoin says the relationship is a way to recognize the contributions of Canadian and International francophones to Yukon history.