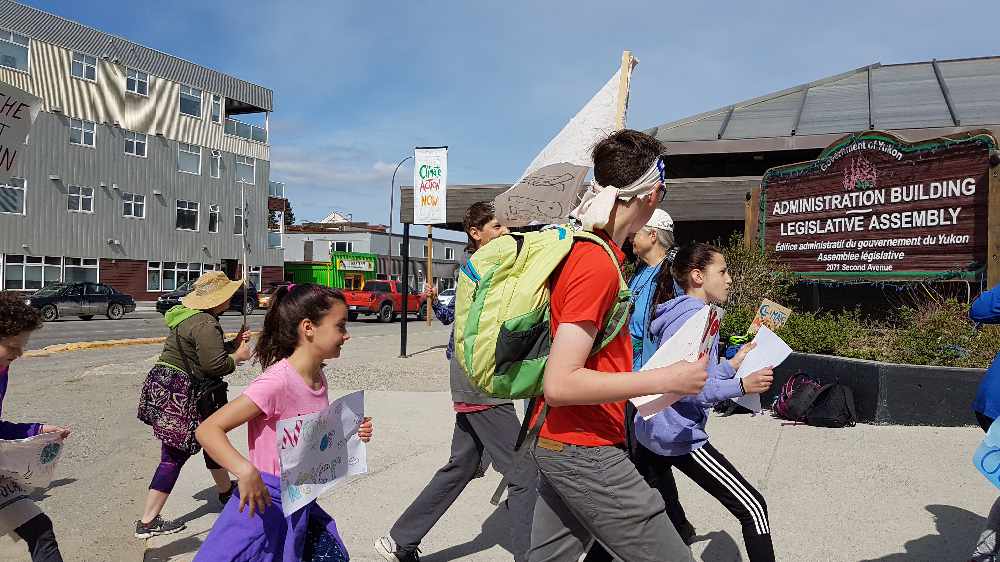 PHOTO: Youth protesters and activists march into the Yukon Government Administration building in Whitehorse. By Tim Kucharuk / CKRW
Youth in Whitehorse took their concerns straight to the Yukon Government Administrative building.
The ongoing Youth Climate Strike which has been happening every Friday for over a month in Whitehorse and around the world has made its way to the Yukon Government's Main Administration Building.
About 25 Whitehorse youth converged on the Yukon Legislative Assembly over the noon hour, and after circling the outside of the building, the youth were let inside the foyer where they explained why they were protesting; "This is our future and we don't want it to be ruined by grown-ups."
Another youth spoke up immediately saying "or anyone, we don't want it ruined by anyone; it's not just grown-ups. It's everyone that contributes to climate change and it needs to stop now."
One of the strikers, Sophie Molgat, says she doesn't have any faith anything will be done.
"We should have done something right when we knew it was happening, because now in 10 years, maybe less, we won't have any more time to act."
The Yukon NDP seems to agree with the youth and wants to declare a climate change emergency in the fall sitting of the legislative assembly.
Leader Kate White says they don't feel the current approach is emphasizing the urgency of the problem.
"It's easy to see that in Yukon and the north, that we're experiencing a faster rate than almost anywhere in the world when it comes to feeling those changes in the climate."
She adds "The issue is, in government things often get talked about, but the actual action items seem to fall off to the wayside, so what we're going to do is we're going to ask communities what they'd like to see done and use that to build our debate for the fall sitting."