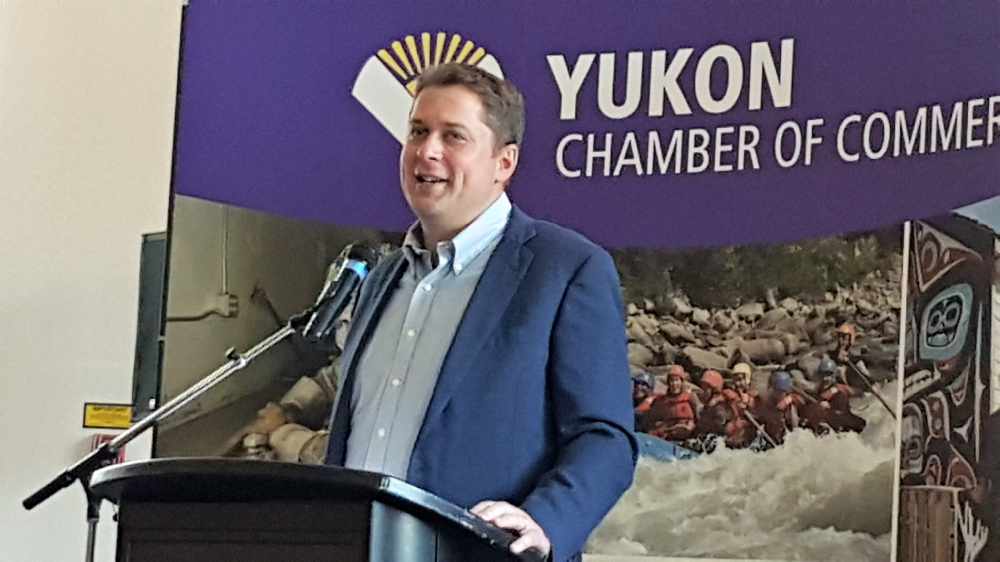 Conservative leader Andrew Scheer addresses a Yukon Chamber of Commerce luncheon on Wednesday. Photo: Tim Kucharuk/CKRW.
Andrew Scheer spent a busy Wednesday in the Yukon capital, giving a speech, shaking hands, taking questions from the media, and talking with First Nation leaders.
Conservative leader Andrew Scheer took aim at Prime Minister Justin Trudeau and the Liberal government during a visit to Whitehorse.
Scheer told over 200 people of all political stripes during a noon-hour luncheon with Yukon's business community on Wednesday, Liberals believe in government, and Conservatives believe in people.
He says that's why he wants to make northern living easier by getting rid of the carbon tax.
"When we look at the distances you have to drive, when we look at the capital-intensive nature of investments in the mining sector and other things like that, the carbon tax is going to have a devastating impact," Scheer told the crowd. "Our first piece of legislation will be entitled 'An act to repeal the Carbon Tax, we are going to scrap that once and for all."
Scheer also says he wants to reduce the red tape when it comes to getting more houses on the market.
"That's why our government will work with territorial, provincial and municipal leaders to cut down on development times, to streamline regulations, so we can get more housing units on the market," he said. "That will have a bigger effect on prices than anything the government can do as it relates to the demand side."
He also lamented the lack of a balanced budget and growing debt, while talking about supporting small business.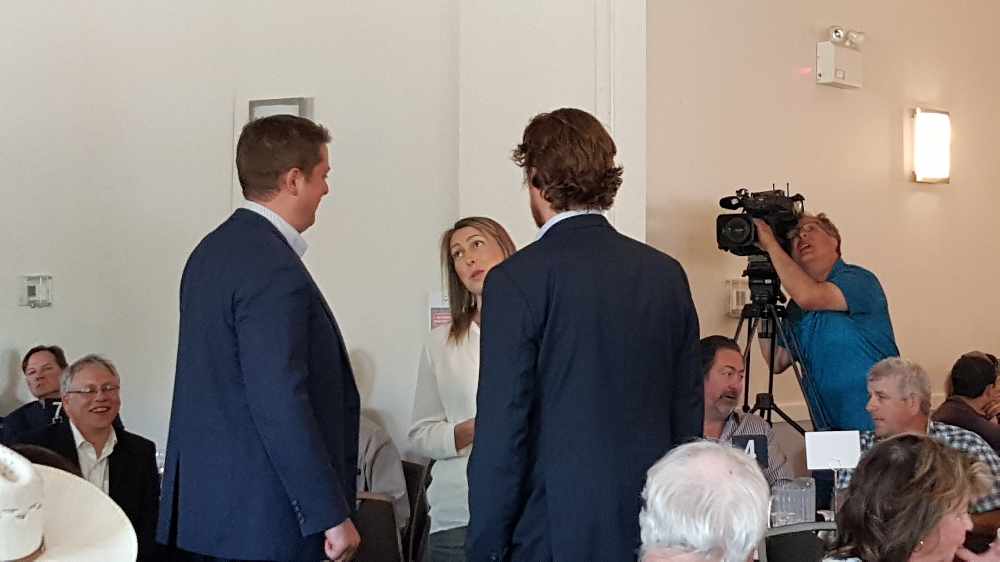 (Scheer meets with audience members before his speech. Photo: Tim Kucharuk/CKRW)
Northern-focused Issues
After the Yukon Chamber of Commerce luncheon, Scheer moved over to the SS Klondike where he fielded questions from reporters for about 15 minutes.
The first question was about Indigenous relations, where Scheer says the federal government hasn't been cutting it, as evidenced in the government dealing with Bill C-69 on environmental regulations, as well as with infrastructure and mining projects, and the carbon tax.
"People are finding out more and more, that Justin Trudeau is good at the gestures, but not really good at getting the results," Scheer told reporters. "When we look at areas taken out of the possibility of being developed, the government is not consulting not only territorial and provincial leaders, but not consulting Indigenous leaders as well."
In #Whitehorse, @CPC_HQ leader @AndrewScheer met the media in front of the SS Klondike after speaking to the business community. The first question was about Indigenous relations. pic.twitter.com/ytV9wumJlf

— Tim Kucharuk (@TimKucharuk) July 3, 2019
Scheer was also pressed about a northern strategy and says if elected this fall, he will implement the Conservatives plan, with details to be released during the campaign.
"We've always been big believers in the federal government playing a leadership role in ensuring that there's growth and opportunities in the north, " Scheer said. "Our previous Conservative government did that when you go back to the Diefenbaker years talking about a strategy to unlock the potential here that is a key part of our northern strategy, of our Arctic strategy as well.
The federal government has been working for over 2 years on an Arctic Policy Framework. In #Whitehorse, Conservative leader @AndrewScheer told reporters a 'northern strategy' would be implemented, but there was no definitive answer about what would happen with the framework. pic.twitter.com/woBqXvawtg

— Tim Kucharuk (@TimKucharuk) July 3, 2019
The federal Liberals has been consulting northern communities and developing an Arctic Policy Framework for over two years, but the new framework has yet to be finalized.
Scheer also toured an affordable housing project, met with First Nations leaders, and participated in a public meet and greet.
This was his first official visit to the territory.