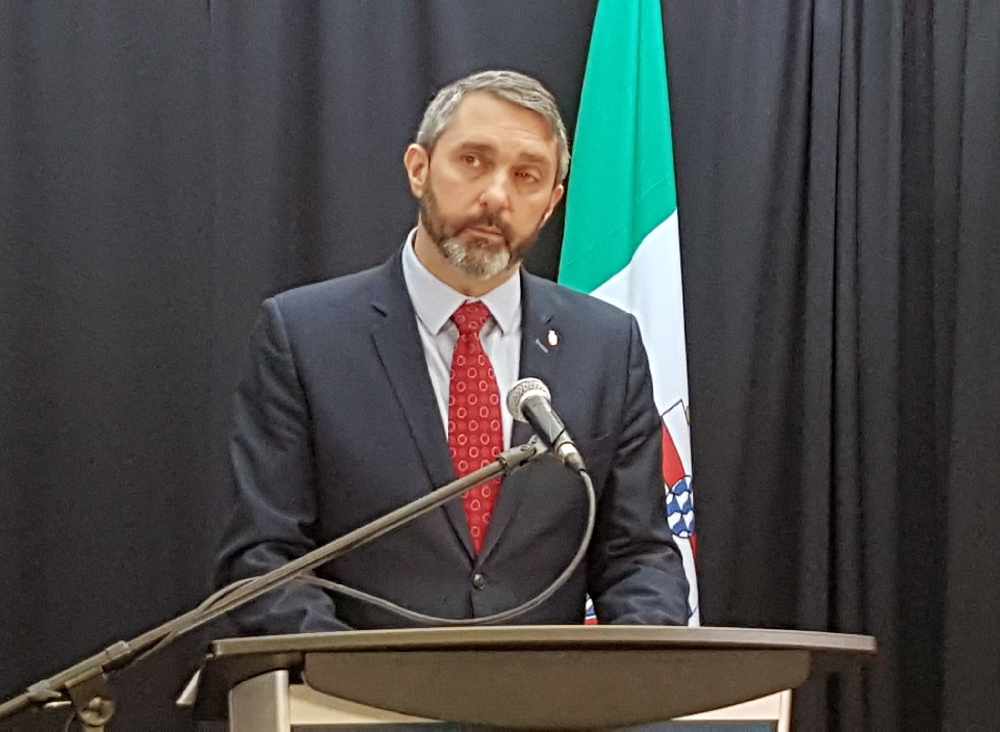 Yukon Premier Sandy Silver addresses media Monday morning. Photo: Tim Kucharuk/CKRW.
Emergency spending measures passed in the Legislative Assembly Monday as the fallout from the pandemic affects business and community events.
The Yukon Legislative Assembly is scaling back business in the wake of the COVID-19 pandemic.
All three House Leaders met Monday morning and decided to pass three spending bills during the sitting day, including an interim supply bill that would provide $338 million in spending for the first two months of the fiscal year.
Premier Sandy Silver says all sides wanted to work quickly.
"We're taking this precaution in the event that our Legislative Assembly has to stop meeting on short notice," Silver said. "But that's not the case so far."
Opposition House Leader Scott Kent says they agreed to the move to make sure the government was prepared.
"To make sure there's spending authority for the government so that staff can continue to get paid, contracts can continue to be let," Kent told reporters. "We're pleased to be able to do that work."
The daily routine has also been changed to forgo tributes, and outside of notices of motion, proceedings would go to Question Period. There would be no private member's day.
There are also discussions ongoing about the rest of the spring sitting, but so far, it's business as usual.
The assembly is temporarily closing the public gallery, and postponing the 2020 Yukon Youth Parliament which was set for mid-April.
As of Tuesday, Yukon's chief medical officer of health reported no confirmed coronavirus cases in the territory.
NVD Reconfigures Hotel Operations
A downtown Whitehorse hotel is closing its doors due to a downturn in business.
Northern Vision Development announced on Monday the Edgewater Hotel would be closed for the time being with any guests currently booked in the hotel moved to other NVD properties the High Country Inn or Gold Rush Inn.
Chief Executive Officer Rich Thompson says the world circumstances make it nearly impossible to fill a hotel and the choice to close the hotel down made sense.
"The fact the Arctic Winter Games were cancelled, and we had made room in many of our hotels for that volume, that suddenly we would find ourselves with a lot of hotel rooms and precious few guests," Thompson said. "It is a temporary closing of the hotel."
He says they were expecting 100 percent occupancy with the games when usually they have 60 percent or so occupancy during the winter months. When they looked ahead to the next two weeks they only had one or two guests booked at the Edgewater.
Thompson says staff was offered the opportunity to transfer to another hotel or accept a layoff.
He says the two hotels that remain open have increased general cleaning efforts and expanded efforts to clean rooms after guests leave.
Changes With Yukon College
Yukon College is instructing students not to return to campus after reading week but will move to online classes.
In a statement late Monday afternoon, the college says students should not return to in-person classes on Monday, March 23rd and advises instructors will be contacting students through email for details on continuing studies at a distance.
The college says as of Wednesday, campuses will be offering limited services.
A statement says except for essential employees, most will be working from home or will take leave.
The college expects this to happen for the rest of the winter term until April 30th.
What's Up Down
A Yukon entertainment magazine is suspending production due to COVID-19.
What's Up Yukon Publisher Tammy Beese says they will miss three issues in April--the 1st, 8th and 15th.
She says the plan is to publish the April 22nd issue, with the timing in sync with the Yukon Arts Centre closure.
Beese says the March 25th issue is currently being put together and will be printed Thursday afternoon, then be available through the mail, with some copies also at the grocery store.
She says while staff can work from home, and have had a fully online office for well over a decade, numerous pages have been dropped due to event cancellations.
Nine employees are affected.
CGC Closes Some Areas
The City of Whitehorse is scaling back activities at the Canada Games Centre.
The city says the sauna, steam room, and hot tub, child play area and childminding service are all closed.
There's also a reduction of service as group activities and the pool will be limited to 50 people, while fitness classes will be limited to 12 participants.
The city says all other services including day camps, remain open.
AFY, Rotary Cancellations
The Association franco-yukonnaise says it is cancelling public activities until May 1st due to the COVID-19 pandemic.
AFY says it will review the decision at the end of April after taking into consideration of federal and territorial guidelines.
A statement says the Strickland Street centre will be open on weekdays from 10 a.m. to 3 p.m. until further notice.
AFY says plans are in the works to provide some direct services to members and the community by telephone or video conference.
Meantime, this year's Rotary Music and Dance Festival which was to begin on April 15th in Whitehorse have been cancelled.
The Rotary Club of Whitehorse says they look forward to the event in 2021.
(With reporting from John Kennedy.)