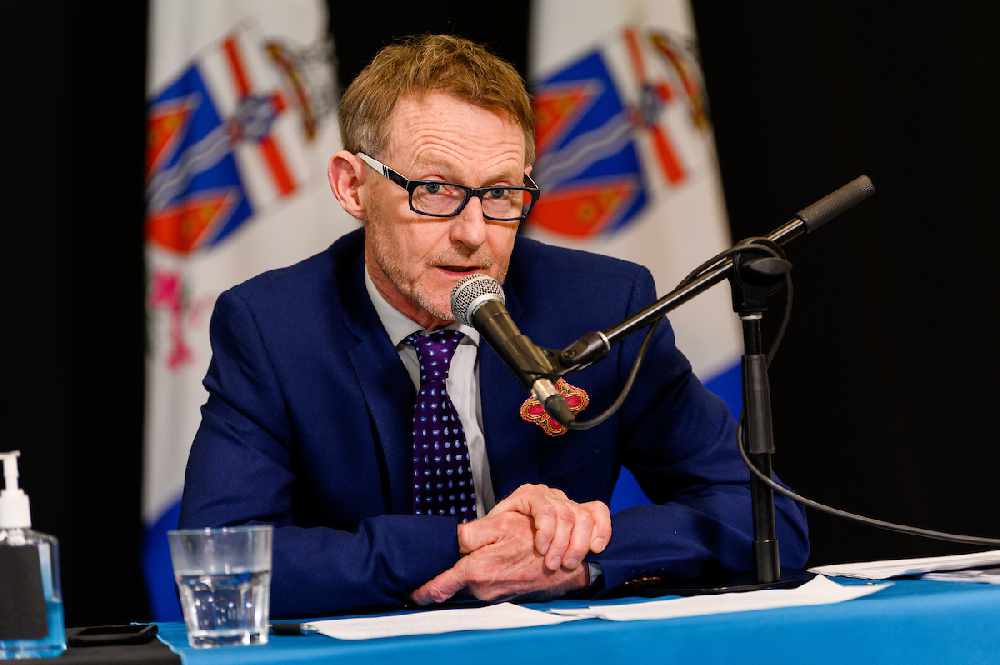 Yukon CMOH Dr. Brendan Hanley addresses Tuesday's briefing. Photo: Alistair Maitland/Yukon Government.
CMOH Dr. Brendan Hanley says the biggest coronavirus threat is from outside the territory as the territorial government gets set to announce reopening plans.
Yukon's Chief Medical Officer of Health says COVID-19 is now considered a rare disease in Yukon.
During Tuesday afternoon's update, Dr. Brendan Hanley announced expanded testing criteria have not shown an increase in cases.
He says there have been no new cases since April 20th, and all 11 now-recovered cases were from outside the territory.
Hanley says the need for border control is more important than ever.
"As we look to the future, our biggest ongoing pandemic threat is COVID-19 will be introduced from outside the territory," Hanley said.
Hanley reminded Yukoners the reopening plan will have to be methodical and precise in order to balance out other conditions and illnesses that are not rare in Yukon. He said we need to keep COVID in the backseat.
Meantime, Yukon's Premier says the territory's plan will be released on Friday with some guidelines available now on the government's website.
Sandy Silver says the plan is contingent on Yukoners practicing the 'Safe Six' steps, which include physical distancing and handwashing.
"If we keep the border tightly controlled and continue to practice these safety measures, I believe our track to recovery will continue to move forward," Silver said.
"We are tracking milestones to help guild our reopening plans, and one of these is that people are following precautionary measures when they are out of their homes."
He noted shopping is a good example, and it's up to individuals to follow these orders.
Silver says YG will be able to review individual business's reopening plans. He added the overall plan will mirror what the Northwest Territories and British Columbia have done.
The Premier says restrictions on daycares and summer day camps are also being reviewed.
Hanley says the tight border controls mean no international flights will be arriving in the territory this summer, and he'll be in contact with Condor Airlines about cancelling their flights which were set to arrive starting in late June.
Both say they will work with Alaska on moving troop deployments to bases in the state through the territory.
As of Tuesday afternoon, there have been 1,106 people tested in Yukon. The figures show 18 pending results.
(With reporting by John Kennedy)
Hanley breaks down the current #COVID19 threat to the territory: 'We need to keep it in the backseat'. pic.twitter.com/g1OB7xxAY2

— Tim Kucharuk (@TimKucharuk) May 12, 2020