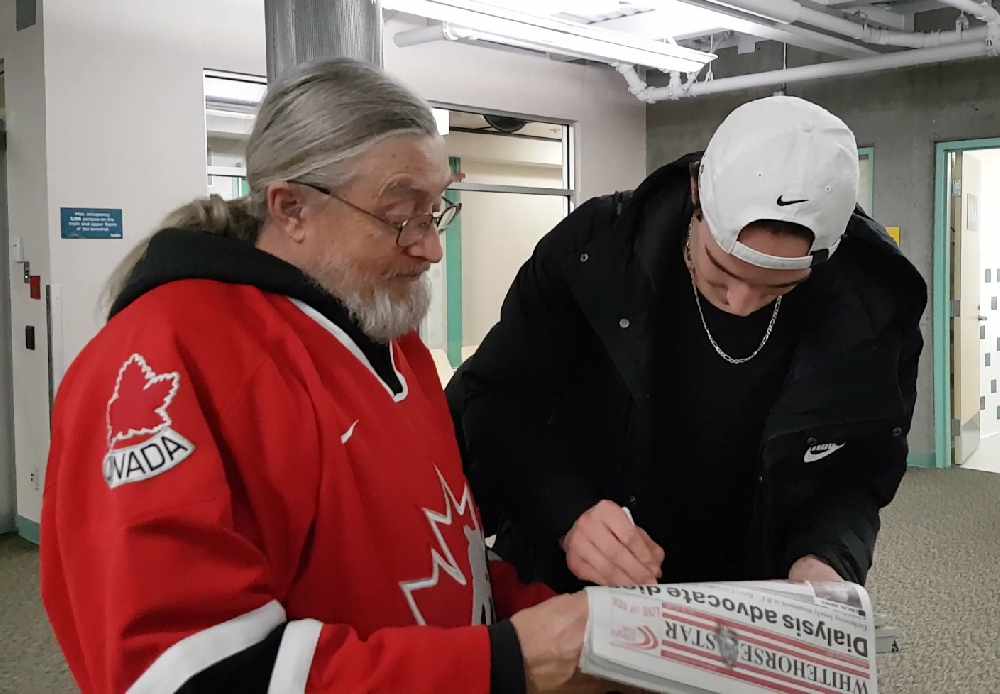 Cozens signs an autograph for fan Wayne Wilkinson after arriving early Tuesday. Photo: Tim Kucharuk/CKRW.
The first Yukoner to play at the world junior hockey championship returned to the territory early Tuesday with the gold medal won in the Czech Republic.
Dylan Cozens and his gold medal won at the world junior hockey championship are back home in Whitehorse.
A small but boisterous crowd welcomed Yukon's first player to make Canada's world junior team to the airport early Tuesday morning after a 30-hour journey from the Czech Republic.
A visibly-tired Cozens took a minute to speak with the RUSH.
"It's nice to be home," Cozens said. "I know it's late, but to have some support here it's pretty cool. It's nice to get some time off."
Cozens says it was great to represent Canada and Yukon on such a big stage.
"On a stage of the world juniors like that, it's something I've always wanted to do my whole life," Cozens said. "Now that I got to do it, and got to win gold and represent my country is unreal."
He says he felt Yukoners support on the ice.
"That was pretty cool seeing people come all the way from the Yukon, that's pretty awesome."
As for his plans over the next few days?
"I'm not leaving the house."
Cozens will have about a week off before returning to his junior club, the Lethbridge Hurricanes.
A warm greeting
Cozens was also welcomed home by a couple of fans who braved the late hour and chilly conditions to trek to the airport.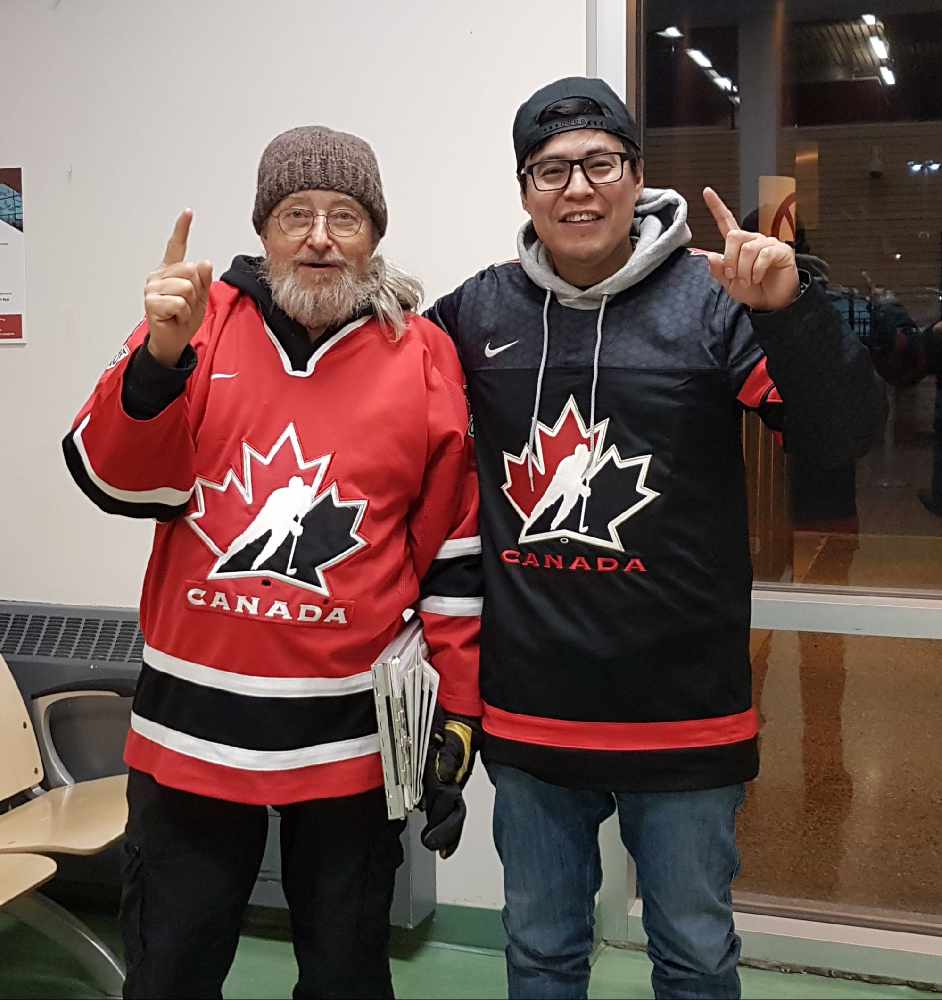 (Wayne (left) and Cody Wilkinson at the airport. Photo: Tim Kucharuk/CKRW)
Sporting Team Canada jerseys, father and son Wayne and Cody Wilkinson were some of the handful of people who greeted Cozens.
Wayne Wilkinson says it was a thrill watching Cozens in the tournament.
"It was great just to see Team Canada play, and to play so well," Wilkinson told the RUSH. "It was even better to know that one of them was from the Yukon, so we were represented. It was the first time we've been represented in a tournament like that. It was great to see."
Cody says like many Yukoners, they were glued to the TV during the tournament.
"We all watched the game, we had family over and we were just drawn to it," he said. "(The tournament) brought everyone together. It brought Yukon together. That was the main thing, to watch him play."
Mayor Dan Curtis began Monday night's city council meeting by offering congratulations and thanked Cozens for making the city, territory, and country very proud.
The 18-year-old was also congratulated at the airport by Community Services Minister John Streicker who announced plans to recognize Cozens more formally at a later date.