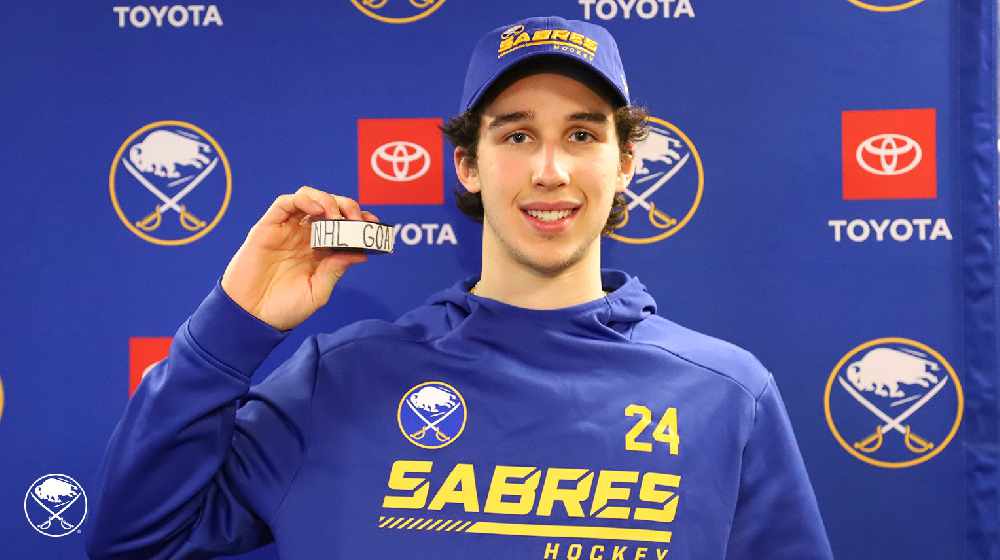 Whitehorse's Dylan Cozens poses with the puck from his first NHL goal. Photo: Twitter/@BuffaloSabres
Whitehorse's Dylan Cozens has two points in his first five NHL games.
Five games into his NHL career, Dylan Cozens has already made history.
Cozens is just the third Yukon-born player to play in the NHL, but he is the first to score a goal in a regular season game.
After picking up an assist in his first game, Cozens was held off the scoresheet for the next three.
But at 10:43 of the second period in Washington, Cozens managed to get himself back on the board.
In the neutral zone, Capitals centre Brian Pinho, who was playing in his first career game, got caught flat-footed at the red line.
Cozens skated out of his defensive zone with speed, and quickly stripped Pinho of the puck.
With a few strides across Washington's blue line, Cozens fired a hard wrist shot over the shoulder of Vitek Vanacek, off the crossbar and in for his first career goal.
"It's something I've dreamed about my whole life," Cozens said in his post-game media availability. "To finally put one in the back of the net is exciting. I don't really remember too much about it, I blacked out a bit, but it found its way in."
The game was tied after regulation and overtime. Cozens was called on by Buffalo Sabres head coach Ralph Kruger to shoot third in the shootout, but was stopped by Vanacek, had Cozens scored, the Sabres would have won the game. However, Washington managed to win the shootout in sudden-death to take the extra point. The Sabres are now 1-3-1 on the season so far.
With the goal, a player born in every Canadian province and territory has now scored in the NHL, except for Nunavut. Longtime NHL veteran Jordin Tootoo spent his childhood in Nunavut, but was born in Churchill, Manitoba.