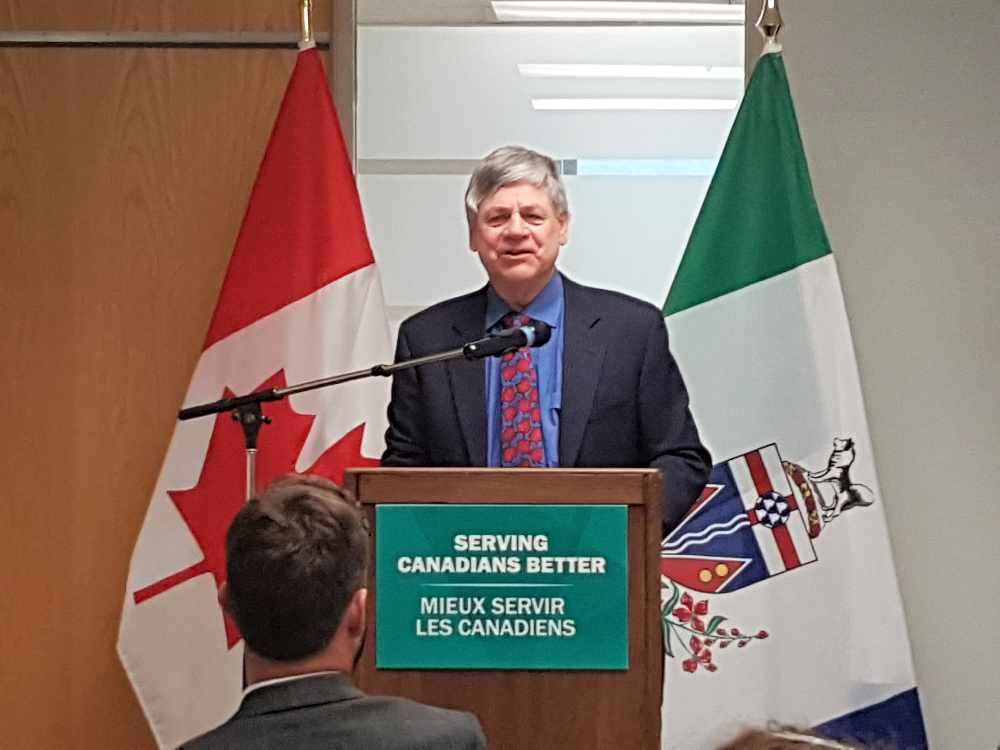 MP Larry Bagnell at Monday's opening. Photo: Tim Kucharuk/CKRW.
The office in the Elijah Smith building will have three Canada Revenue Agency employees assisting Yukoners with tax information and direct telephone lines to southern offices will also be available.
Yukoners can now access tax information closer to home.
After the Canada Revenue Agency office in Whitehorse was closed in 2012, Yukoners had to rely on telephone calls to southern CRA offices, and local tax preparers for information.
That changed Monday as MP Larry Bagnell cut the ribbon on the office's reopening in the Elijah Smith Building.
"Our situations here for personal situations, for people individually, and for companies are totally unique in many circumstances in the north." Bagnell said.
"That's why it's great to have people here that can learn about it and understand it."
CRA spokesperson Nico Siemens says the two outreach officers and one liaison officer will not only focus on Whitehorse, but put more emphasis on the communities.
"To distribute information, to enhance knowledge of the benefits and credits that are available. They'll underline the importance of filing annually to remain eligible for benefit payments." Siemens said.
"They'll also help clients assist with CRA digital services, and to help with CRA communications."
Siemens says someone from Vancouver who will come up and run business seminars, and clinics in the communities.
Bagnell also says there will be a dedicated phone line directly to southern CRA offices for northerners with specifically-trained workers only answering questions from those calling from an 867 area code.
Similar offices were opened in Yelloknife and Iqaluit Monday morning in time for the 2018 tax season.
Here's #Yukon MP @LarryBagnell cutting the ribbon to reopen the Canada Revenue Agency office in the Elijah Smith Building in downtown #Whitehorse. pic.twitter.com/V89sQ957g0

— Tim Kucharuk (@TimKucharuk) February 11, 2019