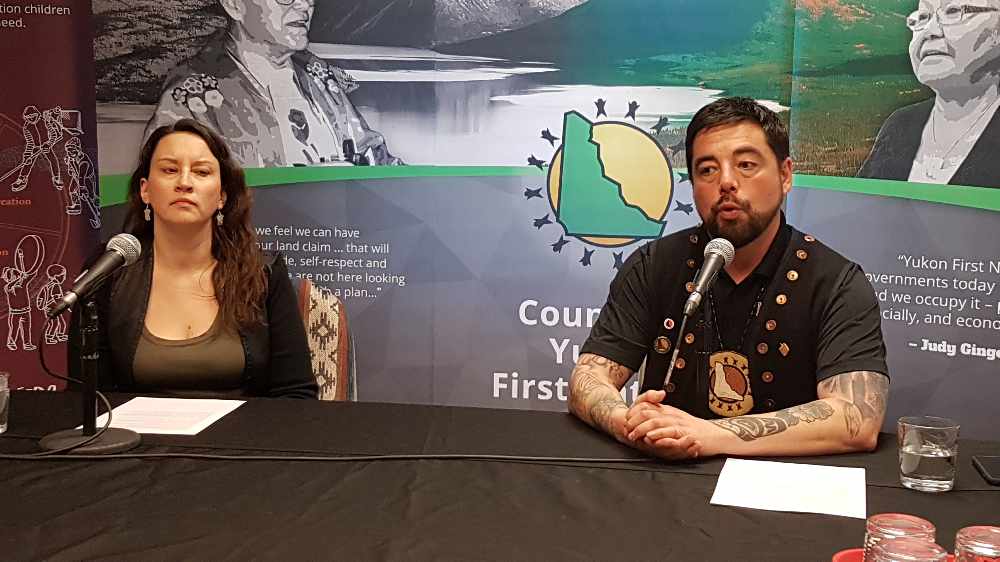 CYFN Executive Director Shadelle Chambers (LEFT) and CYFN Grand Chief Peter Johnston (RIGHT) tell media about the plan on Wednesday afternoon. PHOTO BY Tim Kucharuk / CKRW
The Council of Yukon First Nations says it's getting 4.4 million dollars from Jordan's Principle to launch a nutritional meals program.
Rural Yukon communities will see enhanced food programs in local schools thanks to the Council of Yukon First Nations and Jordan's Principle.
CYFN says it's getting $4.4 million after their nutritious meals program was approved by Indigenous Services Canada.
Grand Chief Peter Johnston says as Yukon First Nations have decreased a diet of traditional meat and fish, they've been forced to eat more processed foods as they're cheaper.
"The reality for families to get on the land and to be able to live in a traditional aspect, is really over the course of history, let alone over the course of climate change happening within our communities, is really tough to get out on the land and provide that traditional aspect."
Executive Director Shadelle Chambers says the program will see the hiring of coordinators and cooks, as well as kitchen upgrades, and the purchase and transport of fresh, nutritious food to the communities for the serving of at least two hot meals a day.
Chambers says CYFN is looking to entrench the program led by Yukon First Nations even though funding will run out next June.
"We're still anticipating that this will become a fully-funded program, but right now with the interim measures that currently exist for Jordan's Principal nationally, we'll have to wait until the federal government announces what that looks like in the future."
The program will serve two hot meals per day during the school week, with food also available for prenatal, early childhood and after school programs.