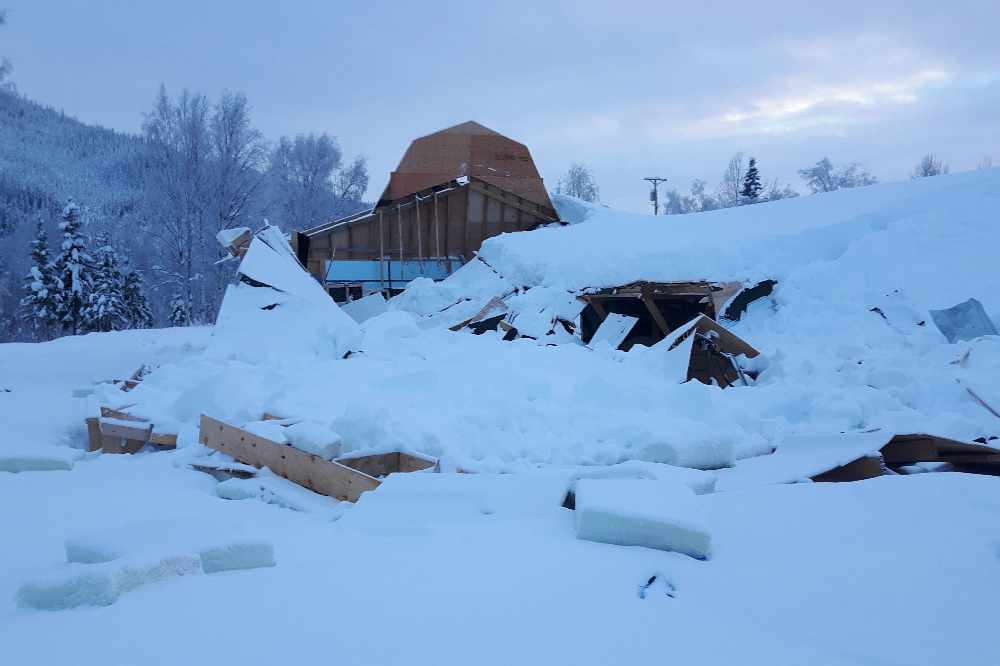 The collapsed barn. Photo: John Lenart/GoFundMe.
Heavy snow destroys new barn at Klondike Valley Creamery and a fundraising campaign is underway to help the local food producer.
A GoFundMe page has been set up to replace a barn at Yukon's only dairy farm near Dawson City.
Local Food Advocate Suzanne Crocker says on February 5th, Klondike Valley Creamery owner Loren Sadlier went to milk his cows but discovered a barn built just last fall had collapsed.
"It didn't take him too long to realize that the roof was missing," Crocker said. "The roof had actually collapsed. We've had a huge amount of snowfall this year in Dawson City. I guess under the weight of the snow, the roof collapsed and trapped seven cows inside."
Crocker says it took all night to cut the cows free, and all survived. She says they are now staying in an older barn and a makeshift barn which was Sadlier's workshop. Before the workshop was cleaned out, the cows were staying in a neighbour's goat shed.
She says time is of the essence as the barn can only be shipped across the Klondike River via ice road.
"(We have) until the middle of March to be able to find the money to be able to purchase the equipment for the new barn and get it shipped up here by the end of March and get it over on the ice bridge before it melts so that they will have a barn next winter for the cows."
She says $65,000 is needed for the new barn.
Crocker says it's a blow for the creamery as Loren and his wife Jen had put everything into starting what is North America's most northern dairy farm.
She says the Sadlier's were making a name for themselves with their fresh milk, cheeses, and yogurt, and have become an important local food source for Dawson residents.
Crocker notes the barn was funded by a once in a lifetime grant from the Canadian Northern Economic Development Agency, and insurance would not cover the remote building.
Here is a link to the GoFundMe page.