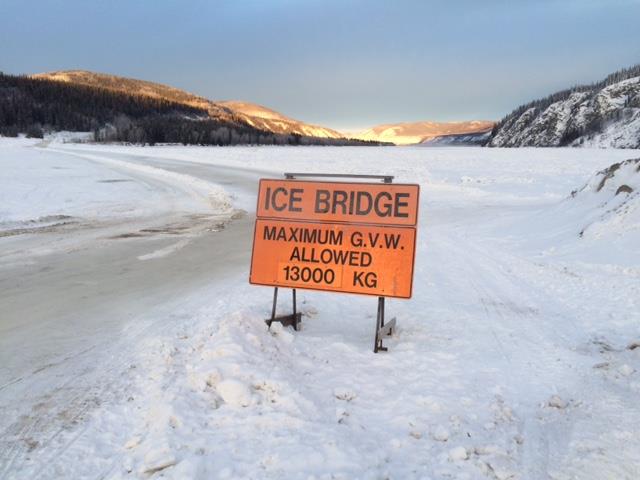 It's hoped the Dawson Ice Bridge will look like this when all is said and done. This photo from January 2016 is the last time the bridge could be constructed. Photo: Jim Regimbal.
Highways and Public Works says while conditions have not been favourable so far for construction, cooler weather--and hope--is on the way.
Officials with Yukon Highways and Public Works say while ice has not been forming as they would like on a potential Dawson ice bridge, there is some hope on the horizon.
Design and Construction Manager Brian Crist says Cobalt Construction installed the ice booms on the Yukon River December 18th, and officials have been monitoring ice conditions since.
"Unfortunately, we really haven't seen (the) really cold temperatures." Crist said.
"There's been a couple of cold snaps in Dawson, and we see a little bit of ice forming along the ice booms, and a little bit more shore ice happening along the edge of the open water."
Crist says once frazil ice is in place, flooding will take place in the hopes of creating a one metre thick ice bridge connecting Dawson and West Dawson.
"You need the frazil ice in the water caused by the low air and water temperatures, you need that ice formation in the water in order for the ice booms to actually catch anything, and that hasn't really happened yet."
"So if we get the cold temperatures, the goal is for the booms to catch the frazil ice, then it will really start to freeze up."
He says the two week forecast is indicating temperatures dipping to the minus 20 and minus 30 degree range.
Whitehorse-based Cobalt Construction won an almost $200,000 contract to try and construct a bridge, and Crist says the money is only spent as work is done.
(The boom across the Yukon River at Dawson City on Boxing Day. Photo: Dawn Kisoun)