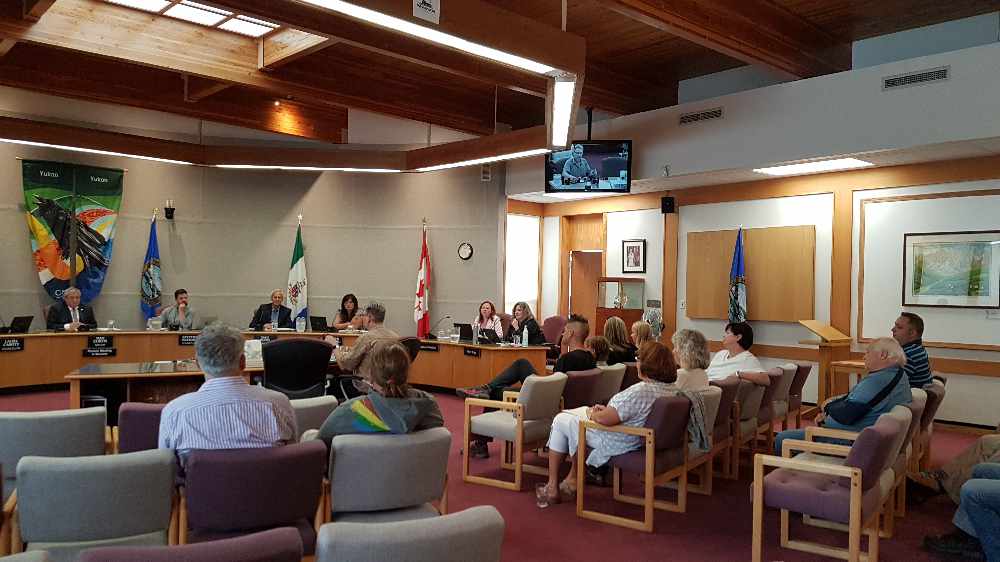 Alexander Street residents voice their concern to council Monday night over an influx of people attending the nearby Emergency Shelter. Photo: Tim Kucharuk/CKRW.
Alexander Street residents tell city council there's no point doing landscaping work until the 'chaotic' situation around the Emergency Shelter is addressed.
Alexander Street residents in downtown Whitehorse say with the increase of people using the Whitehorse Emergency Shelter, the area has become unsafe, completely chaotic, and littered with trash.
Seven residents brought their concerns to council at Monday night's meeting. They spoke as a landscaping contract which would see the installation of tables, benches, planters, trees, and shrubs along the street was being considered by council. The residents say it would be no use beautifying the area until the concerns are dealt with.
Resident Joyce Mickey says putting benches and tables along the street would encourage loitering.
"There's fear in some of the residents and employees working in this area," Mickey told council. "We have a lot of tourists (who) come to visit Whitehorse. I've seen fear in these people as they walk through this area hanging onto each other in a protective manner. This area is an eyesore."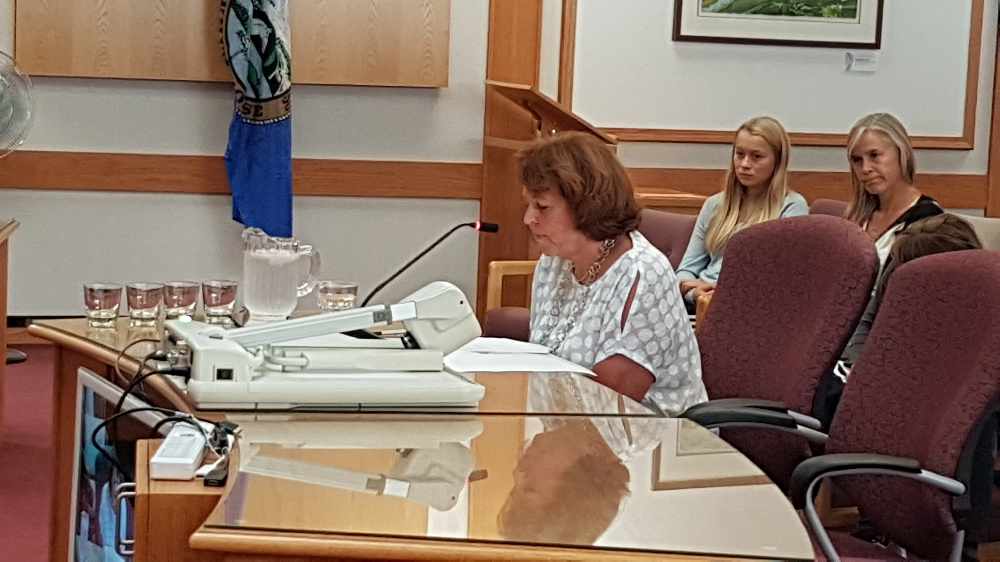 (Joyce Mickey addresses council. Photo: Tim Kucharuk/CKRW.)
Melanie Mcfadyen and her 13-year-old daughter live on Alexander. They told council they've seen yelling, violence, drinking and massive gatherings with 30 to 50 people at a time. They say emergency vehicles are often heard attending the area daily.
Council was onside with the delegates. Councillor Laura Cabott went so far as to say the city needs to do more to address the issue.
"I know the city has done some things in this area," Cabott said. "I know the mayor sits on Crime Stoppers, we've been a big part of (the) Safe at Home (Anti-Poverty Coalition program.) The city hasn't done enough to address the issues and challenges that are in this area. I'm to blame as much as anyone else having been a councillor for nine months."
The $152,359 project was set to be awarded to Lane's Yukon Yardworks.
Council directed administration to re-visit the contract and come back with a report at council's next meeting in September.