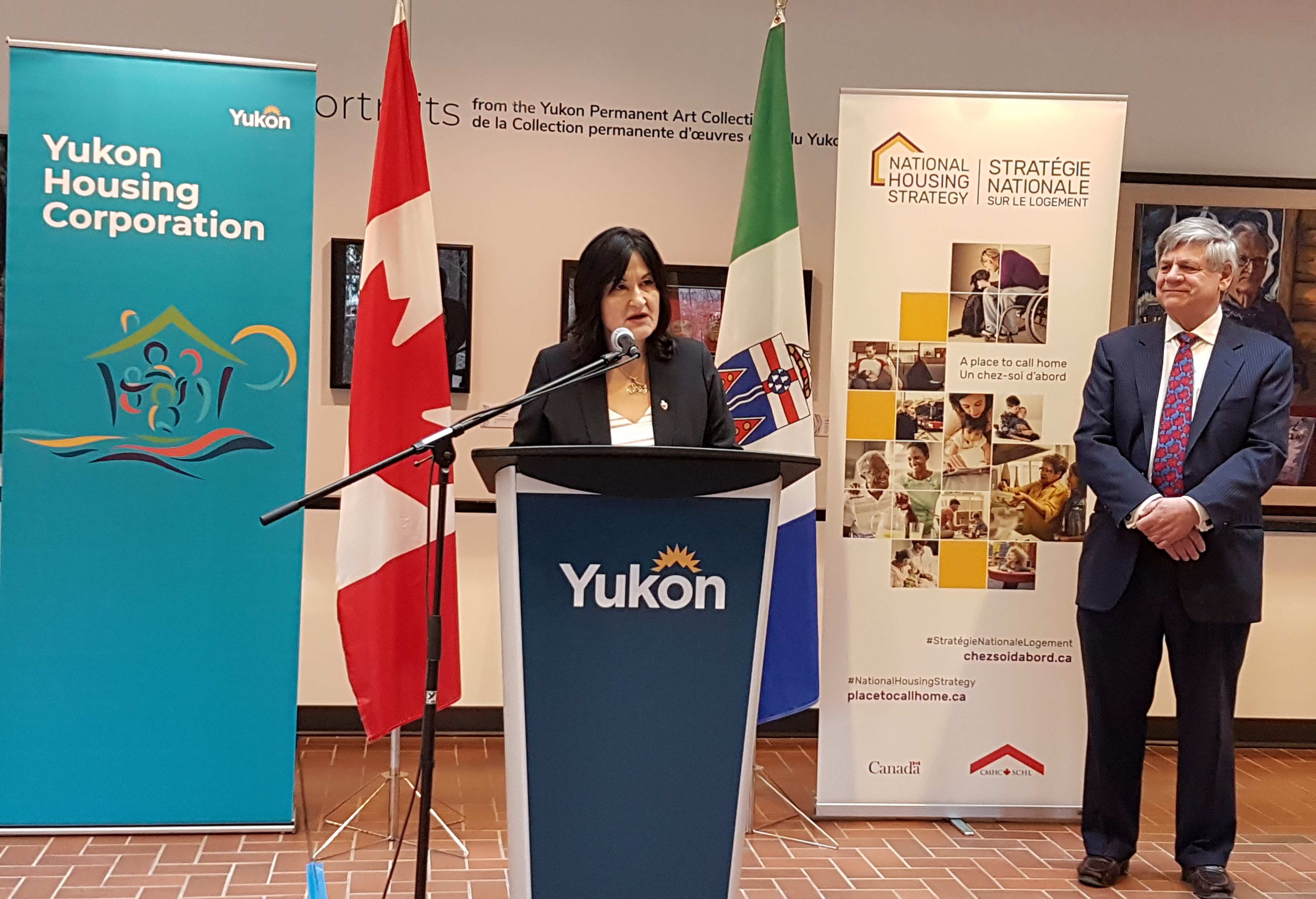 Yukon housing minister Pauline Frost addresses Thursday morning's announcement alongside MP Larry Bagnell. Photo: Tim Kucharuk/CKRW.
MP Larry Bagnell and Yukon housing minister Pauline Frost sign a 10-year $60 million dollar bilateral agreement in Whitehorse.
The federal and territorial governments are signing a 10-year $60 million housing agreement under Ottawa's National Housing Strategy.
MP Larry Bagnell and Yukon Housing Minister Pauline Frost put pen to paper on the deal Thursday morning which will go toward social and community housing.
The funding breaks down to nearly $42 million in federal money and just under $18 million from Yukon.
Bagnell says the deal fits with the existing $28.5 million 10-year Social Housing Agreement reached last year.
"This means that combined investments under the new national housing bilateral agreement, which we're signing today and the Social Housing Agreement which we already have with the Yukon government will preserve at least 543 community housing units across the territory." Bagnell said.
Frost says money from the cost-sharing agreement will be incorporated into Yukon's Housing Action Plan.
"Looking at the whole spectrum of housing and housing needs across the Yukon." Frost said.
"Historically, the mandate for (the) Yukon Housing Corporation was to look at social and affordable housing, and we've expanded that scope and expanded our mandate to work with our partners."
The territory will also develop and publish three-year action plans for the funding starting later this year.
The official signing of the $60 million 10 year housing agreement by @LarryBagnell and @PFrostOldCrow between the federal and territorial governments. Money is for social and community housing, and will be part of Yukon's Housing Action Plan. pic.twitter.com/s9xCjlVSXw

— Tim Kucharuk (@TimKucharuk) March 14, 2019