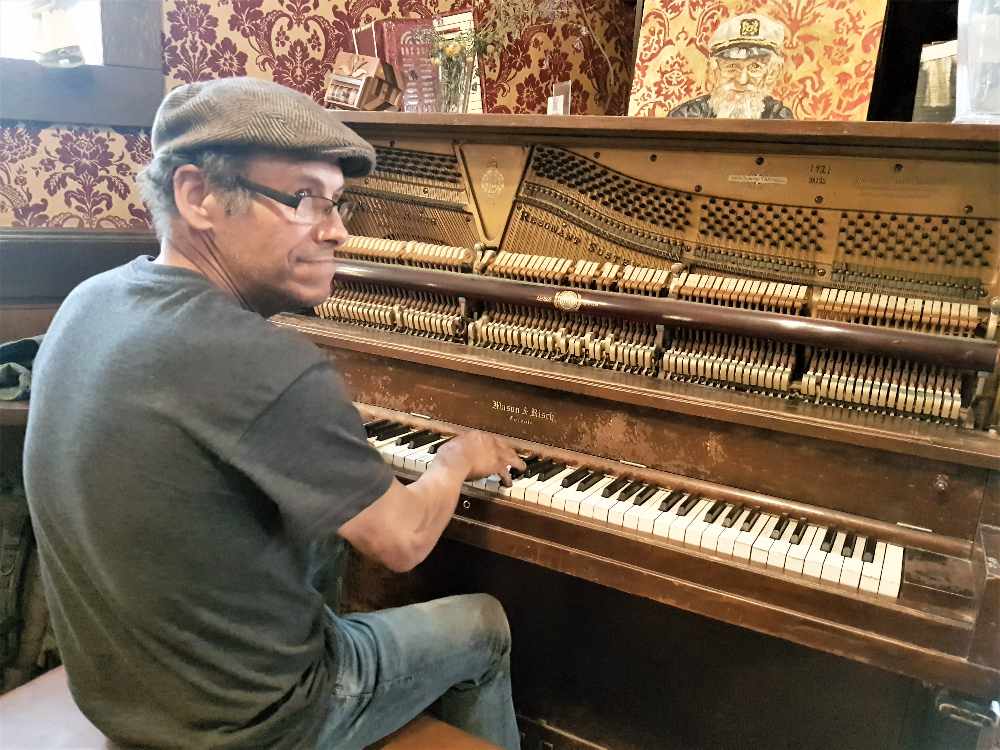 Dwayne Kelly has been entertaining guests at the Downtown Hotel for years. The beloved Dawson City figure lost his home to fire this week. Photo: Tim Kucharuk/CKRW.
A friend says piano man Dwayne Kelly is homeless after an engine fire engulfed his boat on Wednesday and has started a fundraising campaign.
Friends are rallying around a well-known Dawson resident after he lost his houseboat to fire this week.
Dwayne Kelly, who is the resident piano player at the Downtown Hotel and has lived in the community for over 30 years, was left homeless after an engine caught fire and destroyed the boat on Wednesday.
Friend Donna Clayson says Kelly was lucky to make it out ok and lost everything including his keyboard.
"There's only one way out of a boat, out of the galley, he managed to get out," Clayson told the RUSH. "He got three of his dogs out, two of them, unfortunately, were trapped. He suffered smoke inhalation trying to rescue his dogs. His lungs are really bad (as) he had trouble talking (when I talked with him). He's lost absolutely everything."
Clayson has started a gofundme page for people to help out.
"Hopefully he can find himself a place to live," she said. "He needs to feed himself. He doesn't need clothing or household goods. He really needs the funds to find himself a place to live and food before winter hits."
She says the boat that burned was one Kelly bought after a fire in late December 2017. That fire left Kelly out in minus 40-degree Celcius temperatures for hours before help arrived.
This is the third time he's lost a home to flames. Clayson says he's also survived two floods of his boat while on the Klondike River.