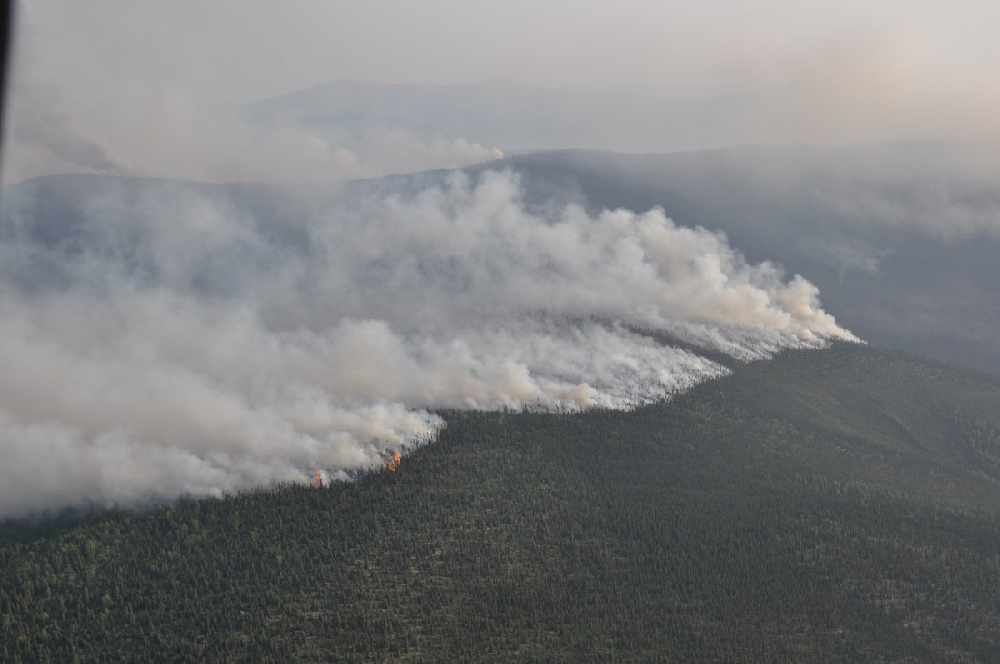 A weekend photo from the Hunker Summit fire. Photo: Yukon Protective Services/Yukon Wildland Fire Management.
Wildland Fire Management says two blazes in the Dawson and Stewart Crossing area continue to grow, while smoke prevails in the southern part of the territory.
The focus of Yukon's forest fire activity is the central part of the territory.
Wildland Fire Management says there were five new fires over the weekend, and work picked up on the Hunker Summit and Pigue Creek fires.
The Hunker Summit fire 27 kilometres from Dawson is 3,000 hectares in size and has 10 initial-attack crews with helicopters and heavy equipment working the fire.
A number of roads in the Dawson goldfields are closed.
The Pigue Creek fire is 44,000 hectares as it burns along the Stewart River and Icechest Mountain, with four crews, and helicopters, fighting that blaze. An 18-person crew is also providing structural protection.
Crews from B.C. and Yukon First Nations have been called in to help fight the fires.
Those fires, along with blazes in Alaska continue to pump smoke into southern Yukon.