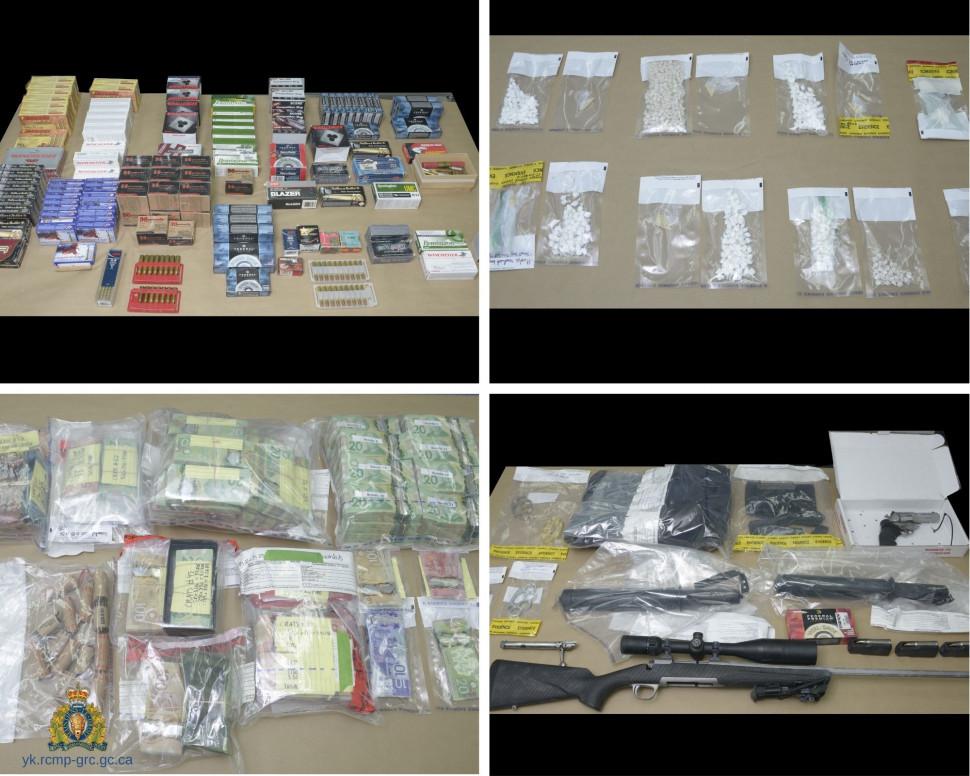 Drugs, ammunition, weapons and cash seized by RCMP. Photo: Yukon RCMP
Yukon RCMP have made arrests and charges as a result of a November 4th search.
A nearly three year RCMP investigation has resulted in the arrest of five individuals in Whitehorse for drug trafficking activities.
The investigation, known as Project MUSKRAT, has been ongoing since December 2017. The investigation was focused on a number of people in Whitehorse believed to be involved in drug trafficking activity.
A November 4th search yielded the seizure of illicit drugs including cocaine and methamphetamine, as well as weapons, ammunition, and approximately $450 thousand in cash.
Whitehorse RCMP Chief Superintendent Scott Sheppard says drug trafficking operations in smaller jurisdictions like Whitehorse can heighten the concern for public safety.
"The concern is that the drug trade brings its own culture of violence and intimidation. Those are the commodities that they deal in on a regular basis. When you have a presumably closed market such as Yukon, it can be quite lucrative for people to sell drugs here."
The five people arrested have been charged with various drug possession, drug trafficking, and prohibited weapon charges.
Police say the investigation is still ongoing, including a CRA investigation into one of the individuals for tax offenses.