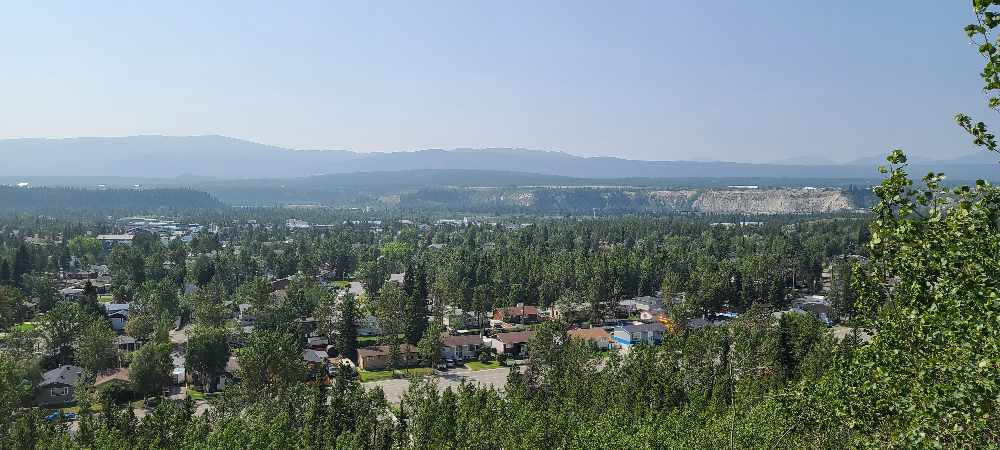 The smoke has given some hazy conditions over Whitehorse. Photo: Tim Kucharuk/CKRW.
Wildland Fire Management says a weather pattern has brought smoke into the territory from Russia.
A warm front sweeping through the territory is not only bringing sunshine and warm temperatures, but also wildfire smoke.
Fire Information Officer Mike Fancie with Yukon Wildland Fire Management says the front originated in Siberia.
He says a number of massive forest fires burning are burning in that region.
"Right now, it looks as though we're going to see the greatest level of smoke impact in southern and central Yukon," Fancie said.
"(Wednesday) during the evening that smoke was also visible notably in places like Haines Junction and Whitehorse."
Fancie expects the front to move through over the next day or so, taking the smoke with it.
"We don't see any particular increase in the density of smoke or anything that might cause people to be generally concerned."
He says if you do have questions, you can call the 811 health line and have a telehealth nurse answer your questions.
Fancie says smoke from fires in the territory is not a contributing factor as only 21 fires have been reported so far this season burning just over 15,000 hectares.
He says this is one of the two or three slowest years in the past 20 years.