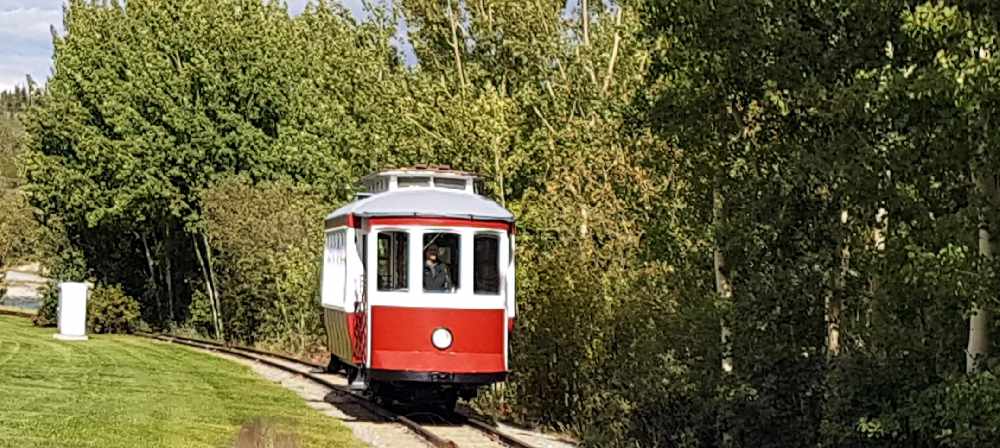 The Waterfront Trolley in September 2018. Photo: Tim Kucharuk/CKRW.
The tourist attraction which runs along the old White Pass tracks on the waterfront has lost territorial government funding.
The Yukon Government says it will no longer fund the Whitehorse Waterfront Trolley.
During budget debate on the Tourism and Culture budget in the Legislative Assembly on Tuesday, NDP Leader Liz Hanson asked about the trolley's fate, as there had been rumours circulating the beloved tourist attraction 'was dead'.
Minister Jeanie Dendys says Highways and Public Works has been providing core funding for the tourist attraction for 18 years, and much-needed infrastructure upgrades outside of that funding were not happening.
"With the ongoing development of the waterfront area, we do not feel that it is financially responsible to continue investing millions of dollars in infrastructure upgrades required to keep the trolley running safely through an area that has not been fully developed yet." Dendys told the house.
The minister pointed out almost $2.2 million dollars in taxpayer money has been spent on the trolley system over the past decade.
Hanson wonders what's going to happen with all the new railroad ties piled up on the waterfront for work to be done, and how much notice was given to the MacBride Museum, which operates the trolley.
The trolley did run for two months last year after the handing over of operations from the Copperbelt Railway and Mining Museum to MacBride.
The circa 1925 streetcar originally from Portugal hasn't been fully operational since 2016, and in 2017 the track only operated for a short time with another trolley in place before the system was shut down for repairs.