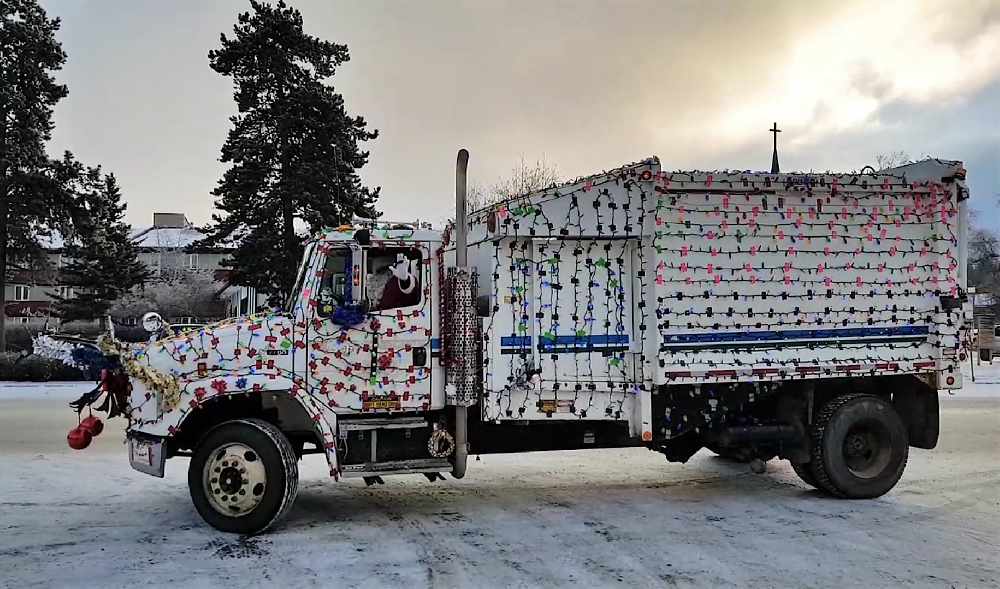 Garbage Truck Santa will be waving at Yukoners again for a 28th year. Photo: Tim Kucharuk/CKRW.
Wayne Henderson says some finishing touches are needed, but the packer truck used as his sleigh is fixed up for the holidays.
Garbage Truck Santa is ready to roll for the holiday season in Whitehorse.
After taking possession of an older packer truck a few months ago, Wayne Henderson, with the help of some elves, started a campaign to get the truck roadworthy.
Henderson says the truck is now repaired thanks to community and business support, as well as student mechanics at Yukon College.
"They took the tires and wheels off, they checked the brakes, and changed the oil in it and everything they cleaned out the back," Henderson said. "Transmission has been fixed with the help of a construction company and another construction company helped with the installation of the transmission and everything. I've had new wheels put on."
He noted regular maintenance work, along with registration and insurance have already been taken care of.
Henderson says proceeds from last month's GoFundMe fundraiser has also afforded him the opportunity to replace his 10-year-old Santa suit.
"The old suit it has had its day. It's been with me for years," he said. "I got a new one on the way. Hopefully, it fits."
"It's great. I have so much support from the citizens of Whitehorse. I'm overwhelmed."
Henderson says since he doesn't have to return the truck to its owner, he'll be able to take part in the Christmas and even Rendezvous parades.