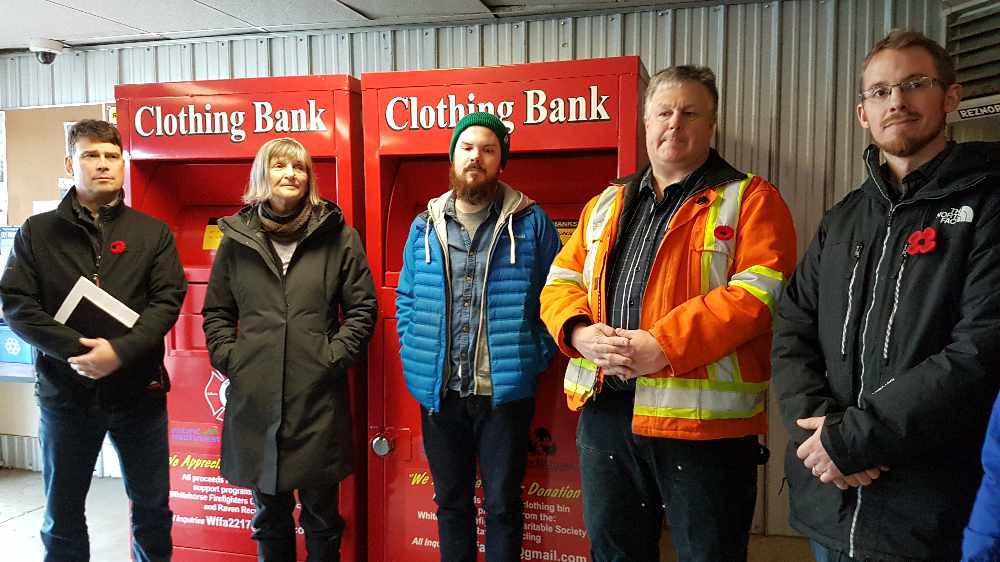 (L to R) YG's Dave Albisser, Raven's Joy Snyder, Taylor Tiefenbach from Whitehorse Blue Bin, Pat McInroy from P&M, and the City's Geoff Quinsey field media questions Wednesday afternoon. Photo: Tim Kucharuk/CKRW.
The City of Whitehorse and Yukon Government are supporting a request from recycling firms to stop processing non-refundable glass containers.
Yukon's three main recyclers say the elimination of glass items such as pickle and jam jars from the system will help with efficiency.
Raven Recycling, P and M Recycling, and Whitehorse Blue Bin Recycling say they will continue to accept refundable items such as beer, liquor, and juice bottles. Those will still be crushed and sent to the landfill to be used as cover.
Raven Recycling's Joy Snyder says Yukon is lucky this is the only change.
"This is happening across the board because the market prices are low," Snyder said. "A lot of recycling centres are actually having to close their doors. We are very lucky here in the Yukon that we just get small operational procedures like this that we have to stop."
Pat McInroy with P and M Recycling says the glass jars are a small portion of his operations and notes the market for recycling commodities has been terrible the past few years.
Community Services Operations Director Dave Albisser says everyone wants to keep the recycling system sustainable, and no other changes are planned.
"So the more efficient we can make it, the more sustainable we can make it, the better off we are," Albisser said. "I think this is a good move because we are being very open and transparent with the public. We want to maintain the integrity of the recycling system. So that means transparency and letting people know what's happening and what we're doing with the commodities that people diligently recycle."
City Water and Waste Manager Geoff Quinsey told reporters with glass ending up at the landfill, the costs to the city will increase but not significantly. He says most of the crushed glass is used as cover anyway.
It was noted glass is inert so the environmental impact would be minimized however, Snyder says you should still rinse out any organic material.
Recyclers will no longer accept non-refundable glass starting November 30th.
Recyclers meet the media to explain changes to glass recycling in #Yukon. They say while unfortunate, the change to have glass such as pickle and jam jars go into the landfill won't have much of an operational impact, but will make the system more efficient. pic.twitter.com/pvOkghB0Hp

— Tim Kucharuk (@TimKucharuk) November 6, 2019