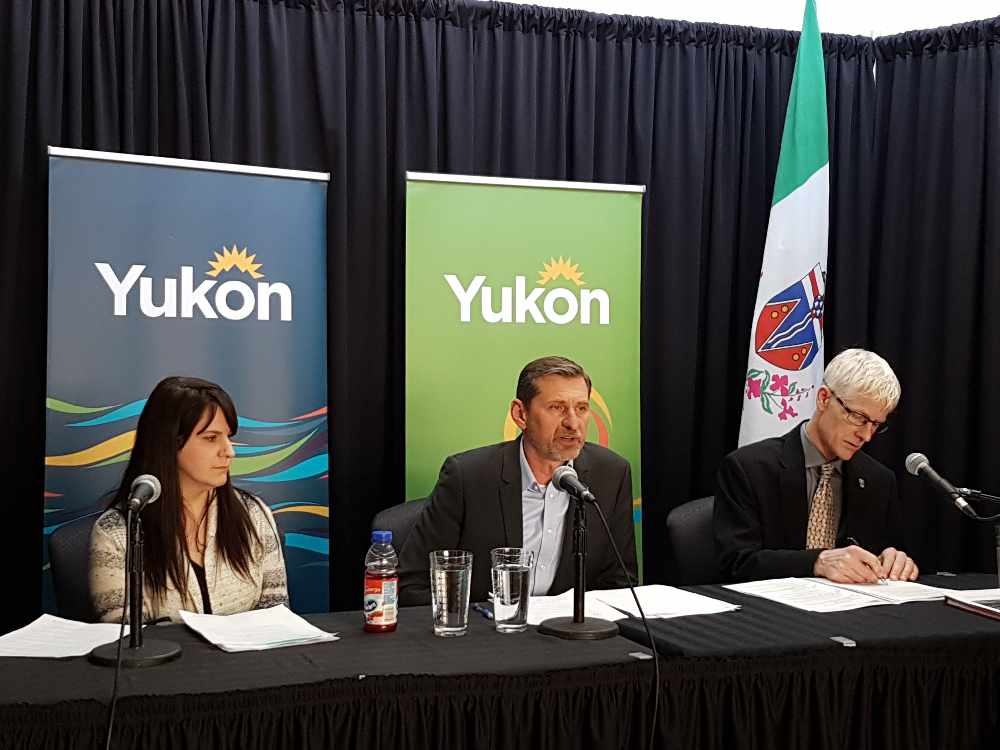 Left to right; Leeann Kayseas, acting manager of Family Services, Deputy Minister Stephen Samis, Public Service Commissioner Tom Ullyett. (Tim Kucharuk/CKRW)
The department of Health and Social Services says reports of wrongdoing were addressed immediately when they were raised.
Staff with the Yukon government's Health and Social Services are clarifying their positions after recent CBC Yukon reports shed light on wrongdoing in youth group homes, and the job loss of one staff member who spoke out.
Deputy Minister Stephen Samis addressed reporters Friday afternoon, and was asked about a case where a youth was locked out of a home in frigid conditions, and forced to sleep in a bank vestibule.
"By policy, we would not do that. By practice, we would not do that. I have to believe those youth, that this happened to them. One instance, where our Minister and our staff have spoken to a youth who said that happened to that particular person, I believe that person."
As for the report about a staff member who's probation wasn't extended after speaking out, Samis says he can't speak to individual cases, but does say he's visited every group home to speak with staff about coming forward.
"If you see anything and if you hear anything, and if there's any issue that you think needs to come to my attention, I am open. I am ready to have it brought to my attention, and I guarantee the confidentiality and the security of that employee in bringing any information to my attention."
Samis says the Transitional Support Services program, and Child and Family Services have undergone seven reviews since 2010.