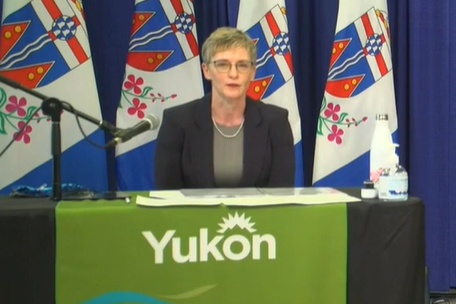 Deputy Education Minister Nicole Morgan. Photo: Government of Yukon.
Grade 10-12 students in Whitehorse have spent the entire school year in half-day learning.
Whitehorse-based students in grades 10-12 will return to full-time classes very soon.
Deputy Minister of Education Nicole Morgan announced that the students who have spend the past 7 months in a half-day learning system will return to full-time classes on Monday, April 19th.
Morgan says this date will provide enough time for transition planning.
"Making this transition on this date will allow us to complete the important planning work needed to ensure that school operations are adapted to meet updated K-12 health and safety guidelines for these schools."
Chief Medical Officer of Health Dr. Brendan Hanley says any students who are aged 18 that are returning to full-time classes will be encouraged to get vaccinated for COVID-19, along with the rest of the adult population.
Dr. Hanely says that young people across the country are being hospitalized more frequently, and that transmission rates are still increasing at concerning rates.
He says the vaccine uptake in the younger adult population in Yukon is increasing.
"This is encouraging and makes me optimistic that we can still get to a goal of 75% or more across the board. But right now, there are easily enough susceptible adults, let alone children, to allow for circulation of virus and outbreaks."
There is one active case of COVID-19 in Yukon, which was announced last week.