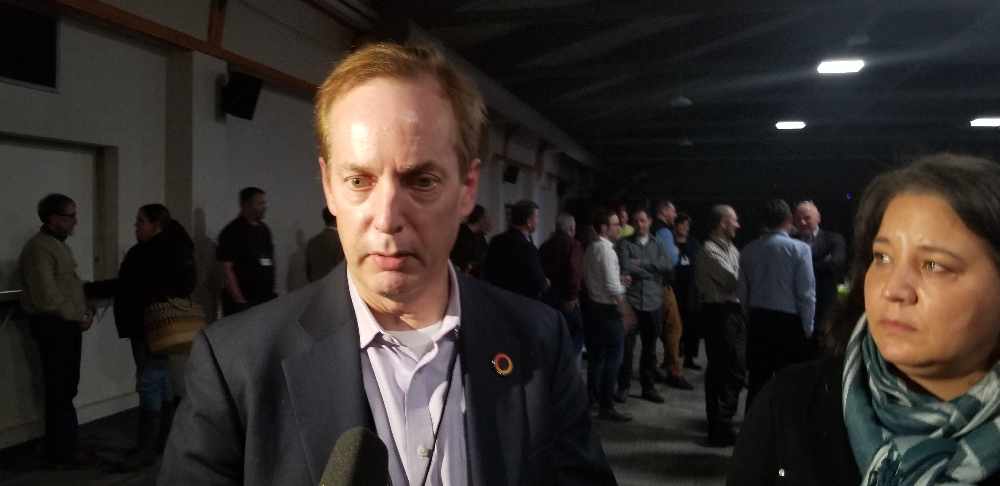 John Redfern (LEFT) and Cory Bellmore (RIGHT) speaking with media about the agreement. PHOTO BY John Kennedy / CKRW
Carmacks Development Corporation and Eavor Yukon signed an agreement to bring Eavor's green baseload energy project to Yukon.
Eavor Yukon and The Carmacks Development Corporation formed a partnership agreement on a new green energy project.
Late Wednesday afternoon, Carmacks Development Corp Director Cory Bellmore signed an agreement with Eavor Yukon, bringing the first baseload energy project to Carmacks.
Bellmore says the Eavor Loop project is exciting for the whole community and brings loads of potential with that excitement.
"For the community, there's the opportunity for economic development and being apart of something that's new, innovative in the world."
The Eavor Loop project allows Eavor to siphon heat off of a closed loop of thermal energies brought up from the earth's crust.
Redfern says the Eavor Loop generates large amounts of energy, making the installation cost a small investment.
"This year we're literally marketing this all around the world. The Yukon is a particular sweet spot, it's the best spot in Canada to do this and so, we're viewing the project we want to do with Little Salmon-Carmacks as to be one of the first in the world, if not the first."
The Eavor Loop costs close to 30 million dollars to install, with work expected, get going sometime next year.