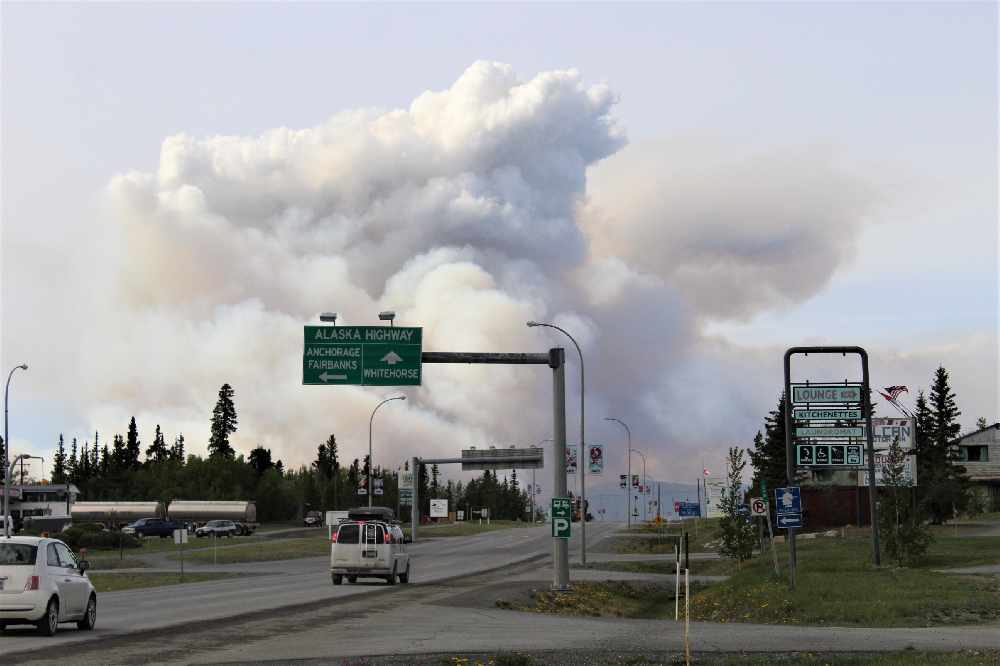 Smoke from the Bear Creek Fire on May 29th was visible from Haines Junction. Wildland Fire now says the blaze is being held. Photo: John Kennedy/CKRW.
Wildland Fire Management says the Bear Creek Fire sparked May 25th is not likely to spread further.
Yukon Wildland Fire Management says the Bear Creek Fire north of Haines Junction is now classified as being held.
Fire Information Officer Mike Fancie says this means no further spread of the 604-hectare fire is likely.
He says, as a result, some resources are demobilizing, and Wildland Fire is once again managing the fire.
The human-caused blaze was sparked May 25th, and quickly raised fears in the village the wind would shift and push the blaze toward Haines Junction. However, a south wind kept that from happening.
There was one new fire in the past day 15 kilometres west of the mouth of the Stewart River.
The spot fire was caused by lightning hitting a tree. A three-person crew travelled by helicopter to the fire and put it out.
The rainy weather has pushed the fire danger rating to low or moderate throughout the territory, except Dawson where it remains extreme.