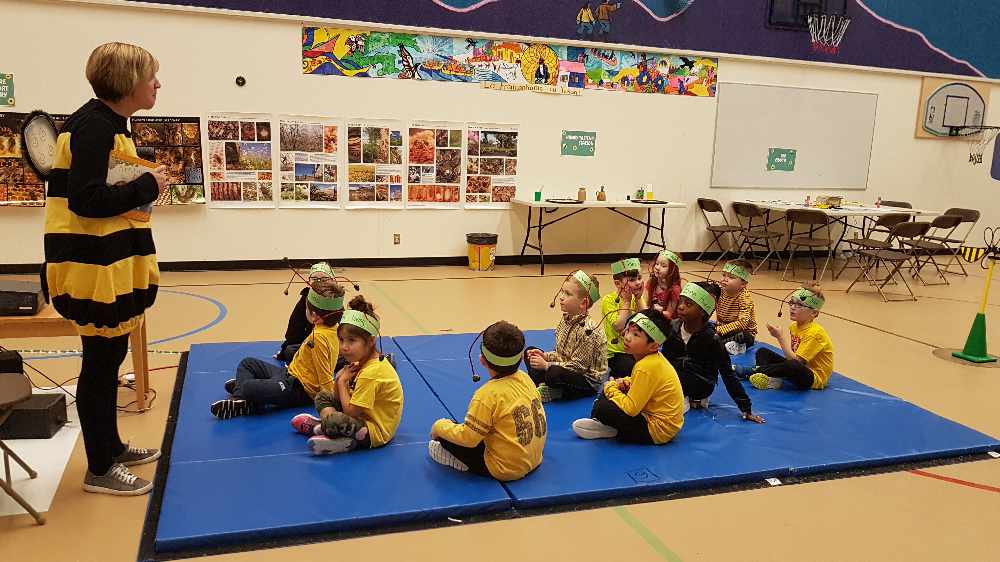 Teacher Kathleen Coventry talks to the kindergarten class at Grey Mountain Primary in Whitehorse about honey bees. Photo: Tim Kucharuk/CKRW.
Students at Grey Mountain Primary School get buzzy learning about the insects and how they make honey.
It was all buzzness at Grey Mountain Primary School in Whitehorse on Thursday.
About 60 kindergarten to grade 3 students learned all about honey bees thanks to grade 2 teacher Kathleen Coventry, who is also a beekeeper.
She says a few of her students were interested in beehives, and the idea for the day was expanded to include the whole school.
"All the great stuff about how bees talk to each other, how they go in and out of the hive, what they do to collect pollen, how they make honey," Coventry told the RUSH. "The kids are super excited about getting into all these activities where they really dive in and get to feel like they're a bee themselves."
She says the gymnasium was abuzz with activity.
"We have a learning hive where the kids can actually pick up beehive frames, and see pictures of what bees are doing in there," Coventry said. "We got a nature art gallery that has a ton of pictures showing bees from when they were first born all the way to how they collect the nectar from the flowers."
"We have a honey-tasting station. That's our most popular one."
Coventry has been operating two hives at her home outside of town for the past four years and says each hive can produce up to 60 pounds of honey--equivalent to the weight of each student she teaches.
She also said this is the only day where the students could get away with telling each other to buzz off.
Grade 2 teacher Kathleen Coventry is also a bee keeper. She says the kids are learning about how they talk to each other, how they go into the hive, collect pollen, and make honey. Activities include crafts, honey tasting and an art gallery. pic.twitter.com/RFYpIEMoST

— Tim Kucharuk (@TimKucharuk) February 13, 2020