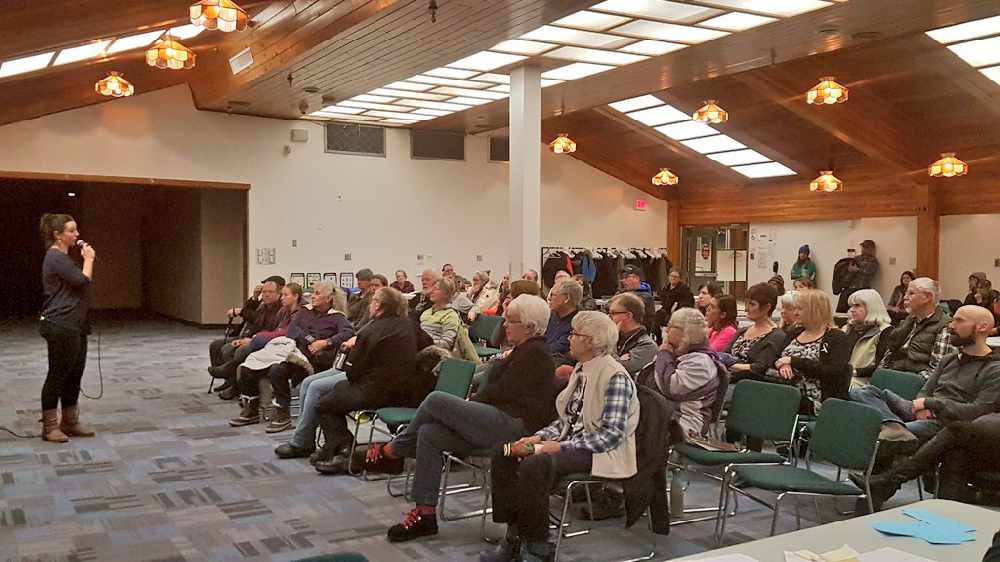 Moderator Sofia Fortin addresses Tuesday night's meeting. Photo: Tim Kucharuk/CKRW.
As the society grapples with hard times, the board is turning to Yukoners for ideas and support.
A public meeting in Whitehorse brought out over 50 people to give ideas, their time and money to the Humane Society Yukon.
Tuesday's meeting was necessary after the society ran into financial trouble due to a court case, and a bookkeeping misstep that left them out of compliance with corporate affairs.
Secretary-Treasurer Carol Oberg sees the meeting as a turning point, as too much expectation was put on the board to do over $300,000 in fundraising for the Mae Bachur Animal Shelter.
"Maybe the government (can be) more involved a little bit, (we could try) to get something that's a good combination. I don't know what that is," Oberg told the RUSH at the meeting. "I like the idea of looking (at) other places that are really successful and finding out what really works. What are the best practices and how we can go forward in a new way."
Former board member and current volunteer Jo-Ann Jackson says it's good the current board recognizes they need help after running into difficulties.
"Five people or seven people, or ten people can't do it on their own they need more support," Jackson said. "This is a community and a Yukon-wide issue. We need as many ideas and encouragement and involvement that they can get."
16 people signed up to become new board members. The board will be picked early next year.
The meeting was told any new members will be dealing with a fresh set of finances after the court case, and the Society is working to get back in compliance with YG.
MLA's in attendance included Community Services Minister John Streicker, leader Stacey Hassard and Watson Lake MLA Patti McLeod of the Yukon Party, and NDP leader Kate White.
Now heading into input sessions. pic.twitter.com/4St7lb9oHp

— Tim Kucharuk (@TimKucharuk) November 27, 2019