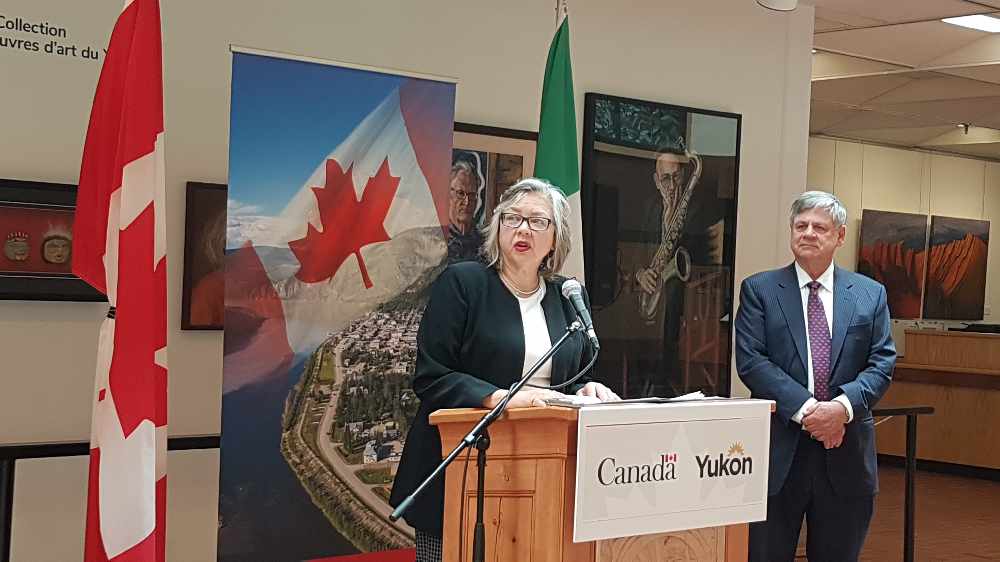 Yukon's Education Minister Tracy-Anne McPhee addresses the media after MP Larry Bagnell announced the finalization of two job retraining programs. Photo: Tim Kucharuk/CKRW.
Yukon's MP and education minister laud a $46 million, six-year agreement to provide over 600 people with skills for new jobs.
The federal and territorial governments say a renewed job training agreement will put more money toward retraining people for new employment.
MP Larry Bagnell says the two new agreements, which actually began in 2017, will put $45 million over six years toward such training--an increase of $6 million over that time.
"We expanded the categories in these agreements as to who is eligible to include people that have been in the workforce for some of this training, where they weren't eligible," Bagnell said. "We expected the types of skills that you're eligible to get trained for."
Yukon Education Minister Tracy-Anne McPhee says the territory wanted more flexibility and expansion to meet northern needs, so the agreement was not signed until April.
One of the people in the program is Benjamin Rhames, who is a sheet metal worker by trade, but a hip problem forced him to change careers.
"So through this program, I'm really grateful," Rhames told those gathered in the foyer of the Yukon Government's Main Administration Building Wednesday afternoon. "I've switched. I've done some research, checked out a new trade--Occupational Health and Safety--so I can combine my industrial, commercial, residential construction experience with getting people home safe at the end of the day."
"I think that's great."
The two programs under the agreement are the Workforce Development Agreement and Labour Market Development Agreement.
Government numbers provided by those involved in the program estimate over 600 people will be retrained during the six years.