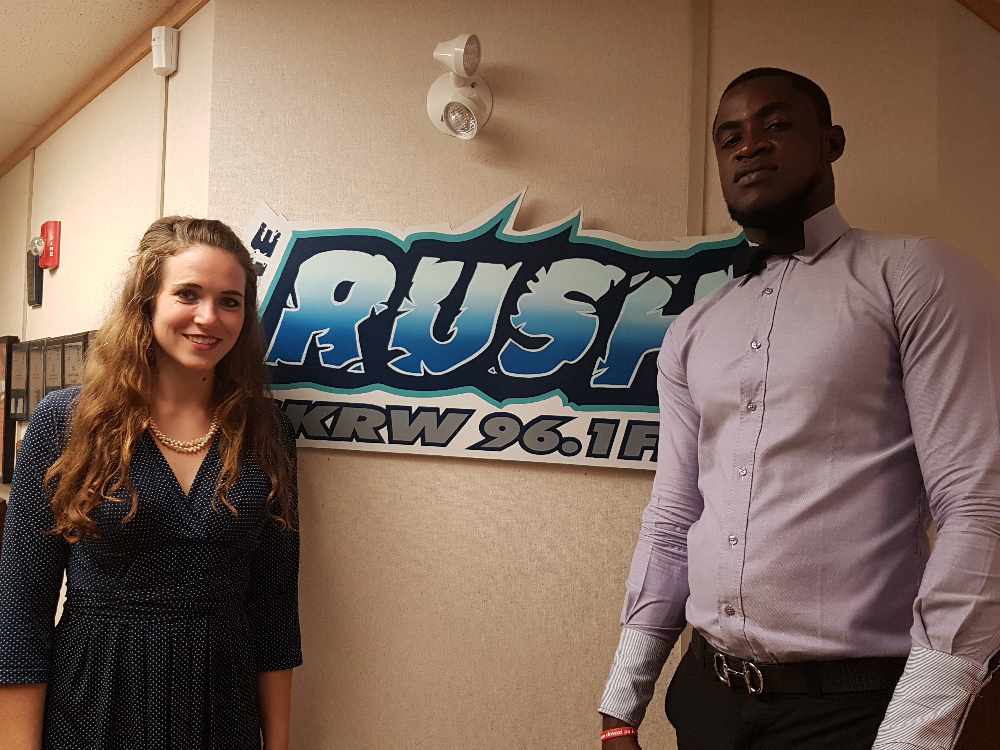 Morgan Wienberg and Ronald Jean Claude of 'Little Footprints, Big Steps' following an interview at The Rush. (Tim Kucharuk/CKRW)
A Whitehorse-based organization is back in the territory to meet supporters and provide an update on progress in Haiti.
The co-founder of a Whitehorse-based organization who is working to match youth with their families in Haiti, and offer other youth support services is back in the territory.
Morgan Wienberg, who started Little Footprints Big Steps with her mother Karen and support from Yukoners in 2011 after that country's devastating earthquake, says their work is going well as they have 17 staff, run a medical program, and have constructed 30 houses.
"All of that is really thanks to the way that Yukoners believed in me when I was starting up, and have continued to be there, you know, after the hurricane, after security incidents. We have some really committed Yukoners who are sponsoring children who have supported us from the very beginning, you know, from 2011."
She says there was a bit of a setback with 2016's Hurricane Matthew but things are back on track.
"Just over a year later that we've been able to actually come back stronger and develop our organization a bit, develop our partnership with local authorities more so we have expanded a lot since the hurricane."
Wienberg is in town with staff member Ronald Jean Claude, speaking at a Rotary Club meeting, and to F.H. Collins students, before a public meet and greet Wednesday night from 4:30 to 6:30 pm at the Whitehorse Public Library.
(Audio: Senior Reporter Tim Kucharuk talks with Wienberg and Jean Claude)