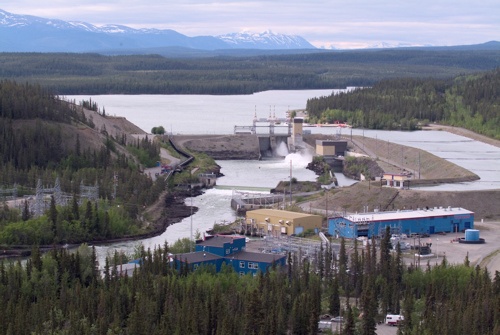 The Whitehorse dam. Lower water levels this year mean Yukon Energy will have to use more LNG and diesel generation. Photo: Yukon Energy.
The corporation says it will have to burn more LNG and diesel to keep up with demand.
Yukon Energy says this winter's low snowpack and runoff will impact their ability to generate hydroelectricity not only this spring but into the fall and winter.
President Andrew Hall says the low flow will mean the corporation will have to rely on their LNG and diesel backups to fill the power supply gap.
He says this is the first time it's happened in 20 years.
"It hasn't happened that frequently," Hall told the RUSH. "Relying on thermal generation, be it LNG or diesel to provide that insurance against a drought event is a cost-effective way for us to set up the system."
However, Hall says Yukoners won't have to worry about any extra cost on their power bill.
"There is a mechanism that protects ratepayers from this kind of situation," Hall said. "It's called a Low Water Reserve Fund that's basically the whole rate structure anticipates that from time to time you're going to have a drought event for example."
Hall says Yukoners can help by consuming less power.
He says with climate change, while the weather will be warmer and wetter, the variation of weather means there could be more dry years such as this one.