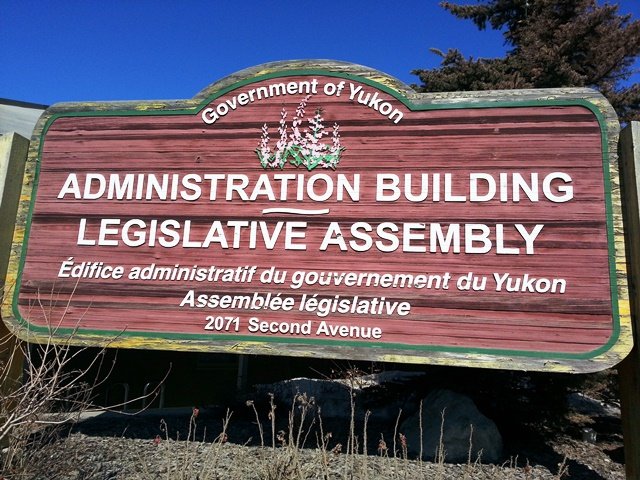 The Opposition Yukon Party has called a meeting with the government to talk about COVID-19 and the spring sitting. Photo: Tim Kucharuk/CKRW file.
Yukon Hospitals will limit who can enter facilities; Opposition calls for meeting with YG, as more events cancelled.
The Yukon Hospital Corporation has put out a statement to keep all Yukoners safe and help hospitals prepare for and manage COVID-19.
In a release posted on social media late last night, it says if you have mild symptoms including cough, fever and or shortness of breath do not visit the hospital. It says you should stay home and call 811 instead.
As well, if you are visiting a patient and feel unwell, do not visit the hospital, but if you are acutely ill with a cough, fever, and shortness of breath, you can visit the hospital.
The corporation says when you do visit the hospital, expect to be met by someone at a public entrance who will ask some questions about your health, and direct you to the appropriate area for your needs.
It says do not come to a hospital for non-urgent or routine bloodwork, lab tests or x-rays and other imaging procedures, specialist appointments or physio and occupational therapy.
The statement says access to facilities may be limited and controlled to ensure you get the care you need and for the safety of all patients and staff.
Official Opposition Calls Meeting
The Official Opposition Yukon Party says it has written to the Premier requesting House Leaders from all three parties meet with the Speaker and Clerk of the Legislative Assembly to discuss the impact of COVID-19 on the spring sitting.
The letter says the purpose of the meeting would be to discuss plans and explore options available to expedite the passing of essential budget bills to ensure the government maintains spending authority so it can operate in the event the Legislature has to adjourn sooner than planned.
A media release from the opposition says it's crucial to put partisanship aside so, in the event of an unexpected adjournment, the government still has the spending authority to ensure the hospital has the resources it needs, government employees can continue to be paid, and contracts can continue to be issued to support our economy.
The Yukon Party has also requested Y-G take immediate action to ensure there are officials or announcements at the airport to share the latest public health information and provide clear advice on voluntary self-isolation to travellers as they arrive in the territory.
Another Big Whitehorse Event Cancelled
The Lake Laberge Lions Club has cancelled the 2020 Yukon Trade Show in Whitehorse due to the coronavirus pandemic.
The announcement was made Sunday as the club says the decision comes after careful consideration and discussion with the chief medical officer of health.
A statement says the safety of our community, exhibitors, attendees, contract workers, and Lions Club members is paramount, and they must do their part to help slow the virus.
Over 100 exhibitors from Alaska, B.C., Alberta, Ontario, and Quebec, along with over five-thousand attendees over three days were expected.
Oldtimers Hockey Shuts Down
The Whitehorse Oldtimers Hockey League says it is suspending play for the foreseeable future due to COVID-19.
A statement posted on social media Sunday says while it is possible they could resume playing this season, it is very unlikely, and participants should assume they are done playing oldtimers this year.
AWG Parade Held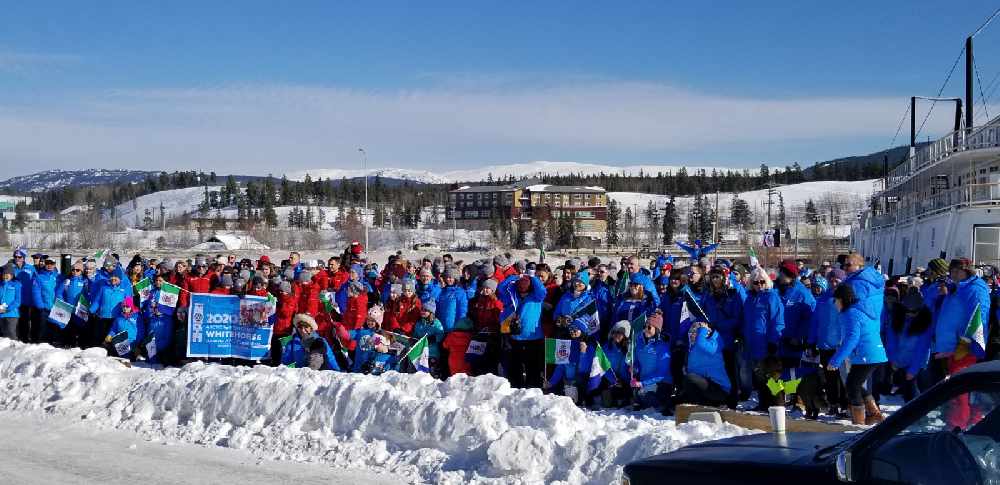 (Athletes and volunteers gather near the S.S. Klondike on Sunday afternoon. Photo: John Kennedy/CKRW.)
Team Yukon and Arctic Winter Games volunteers gathered in downtown Whitehorse on Sunday.
The team was joined by over 1,000 volunteers in a march down Fourth Avenue.
Team Yukon Speedskater Joshua Lauer says it's nice to see celebrations in Whitehorse, especially after so many different cancellations.
"Even though the games aren't happening, it's still just a way to get everyone together to celebrate everything that we've done."
The parade ended with a street party on Main Street.
(With reporting from John Kennedy.)