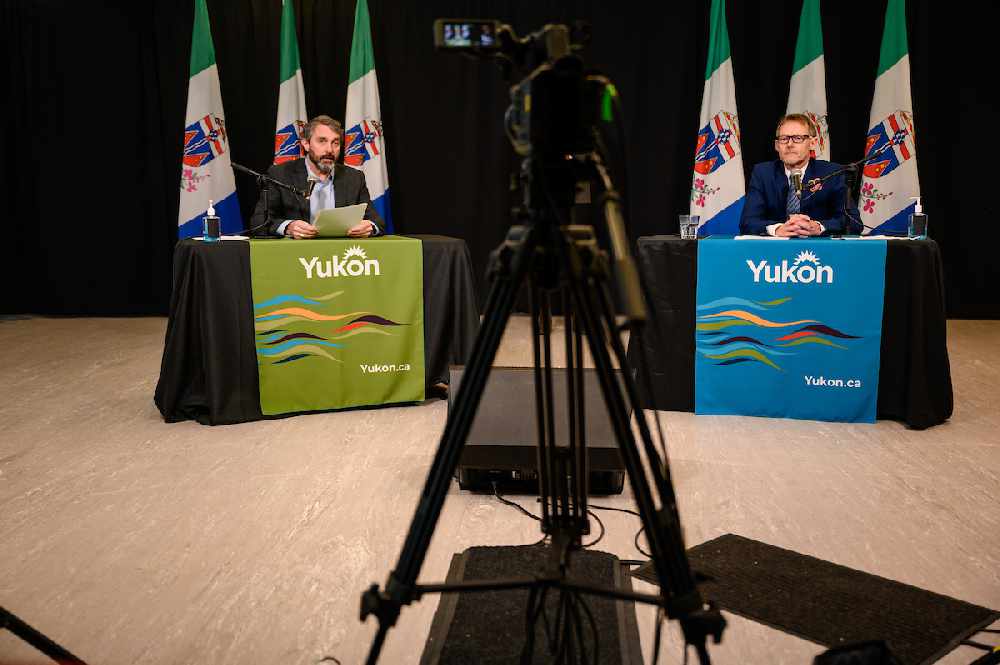 Premier Sandy Silver and CMOH Dr. Brendan Hanley address Tuesday's briefing. Photo: Alistair Maitland/Yukon Government.
Premier announces rules for personal services businesses are now available while restaurant guidelines will be ready later this week; funding available for public K-12 students.
The Yukon Government says restrictions on personal care services and restaurants are being eased.
In an update delivered Tuesday afternoon, Premier Sandy Silver announced guidelines were going out to businesses such as hair salons and barber shops, while restaurant guidelines would be available shortly.
He said those businesses should submit their plans for approval by May 29th.
However, chief medical officer of health Dr. Brendan Hanley had a warning for Yukoners anxious to get a haircut.
"These businesses have been closed now for two months," Hanley said. "They have been waiting so patiently for the go-ahead to reopen, and for the expected rules of reopening."
"We have been hearing from them that they are being inundated literally to the point of desperation with calls for booking. Please give them time to prepare."
Hanley also clarified two households that have more than 10 members combined in their 'double-bubble' can still meet socially. He said all members of the family have to give consent.
There have been no new COVID-19 cases since April 20. As of Tuesday, 1,134 people have been tested. There are six pending results.
Funding For Students
Meantime, Silver announced families of Kindergarten to Grade 12 students in public schools are eligible for a one-time payment of $250 per student.
He said it is to help offset costs of learning from home as schools have been closed during the pandemic.
"Students and families have different circumstances and best understand what their needs are in addressing these challenges," Silver said.
"That is why we are providing this funding directly to families so that they can determine how to use the support to offset the challenges they are facing."
He says the funding will be available through Sport Yukon on behalf of the Department of Education.
In-person classes were suspended for the rest of the year on April 7.
(With reporting by John Kennedy.)
Hanley asks for Yukoners to be patient as businesses develop their plans and reopen. pic.twitter.com/dMZJZG5dyp

— Tim Kucharuk (@TimKucharuk) May 19, 2020