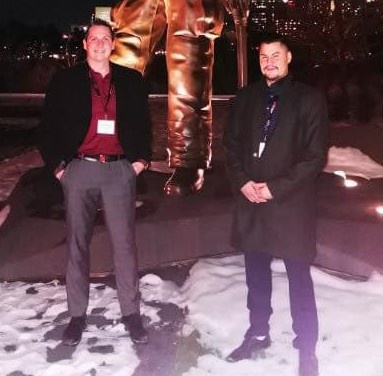 Chad Thomas (left) and Jordan Profeit are heading to Australia to help with the firefighting effort. Photo: Yukon First Nations Wildfire/Facebook.
Yukon First Nations Wildfire are sending two members to help battle fires that have been ravaging the country.
Two Yukon First Nations firefighters are off to help with the devastating bushfires in Australia.
Chad Thomas and Jordan Profeit leave Whitehorse Wednesday to travel halfway around the world and offer support to indigenous leaders and aboriginal firefighters who are battling the flames down under.
A send-off ceremony and traditional prayer were held at the Elijah Smith Elementary School Tuesday.
Besides assisting Australian crews, Thomas and Profeit will also be gaining more firefighting skills to bring back home.
Yukon also has two members from Wildland Fire Management in the country helping with the effort.
At least 28 people have died, and thousands of homes destroyed in the fires. There are also health concerns due to poor air quality.