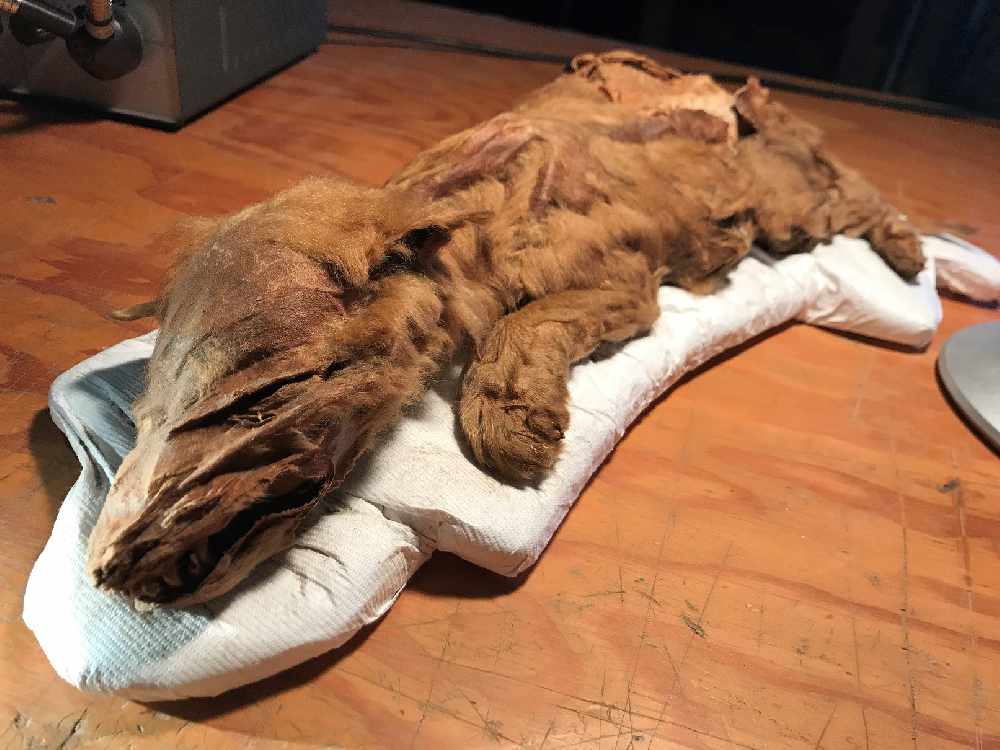 A mummified wolf discovered two years ago is now on display in Dawson City. Photo: Yukon government.
A wolf pup and caribou calf found by miners two years ago have been cleaned up and are on display while scientists try to find out more background about the beasts.
An exciting find for Yukon paleontologists two years ago is now on display in Dawson City.
Placer miners uncovered a mummified caribou calf and wolf pup southeast of town in 2016.
The mostly intact animals were sent to Ottawa for cleaning, and are now back in the territory, with an unveiling ceremony held in Dawson Thursday afternoon.
Paleontologist Dr. Grant Zazula says they date back at least 50,000 years, with the caribou found in an area at least 80,000 years old.
"We find thousands of fossils of ice-age animals in the Yukon every summer (such as) woolly mammoths and camels." an excited Zazula told the RUSH.
"But to actually see one of these animals flushed out for real with skin and muscle and hair that's tens of thousands of years old, it's amazing!"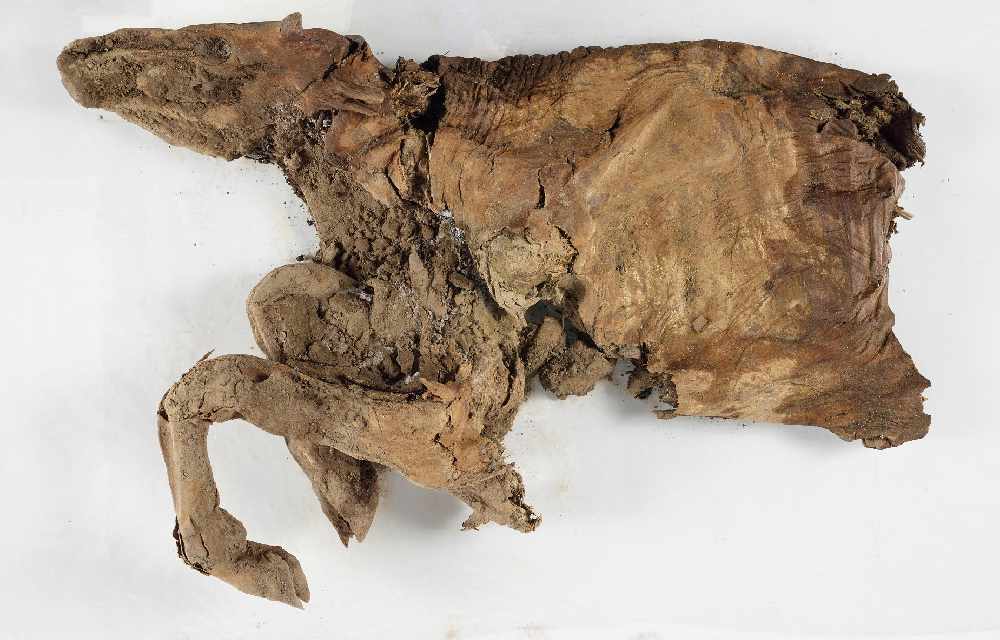 Zazula says this is the only mummified ice age wolf ever found in the world.
The work continues though, as he says there's many things scientists will look for, including how they match up with populations of today.
"What the animals were eating so we can look at their diet by looking at the chemistry of their hair, and their muscle tissue, and their bone. We're going to do some CAT scans." Zazula said.
"When you find something like this you can basically assemble an 'A' team of people in the world who want to look at this kind of stuff. We're doing that now, and we're doing as much as we can."
(Inset: while the wolf was found intact, part of the caribou was missing. Photo: Yukon government)
DNA has been sent to a lab in California, and Zazula expects the results back in a few months.
Zazula says after a few weeks on display in Dawson, the two will be brought to Whitehorse and permanently placed at the Beringia Interpretive Centre.
He thanks the miners involved--Tony Beets and the Favron Family--as well as the Tr'ondëk Hwëch'in First Nation for turning over the find for further study.