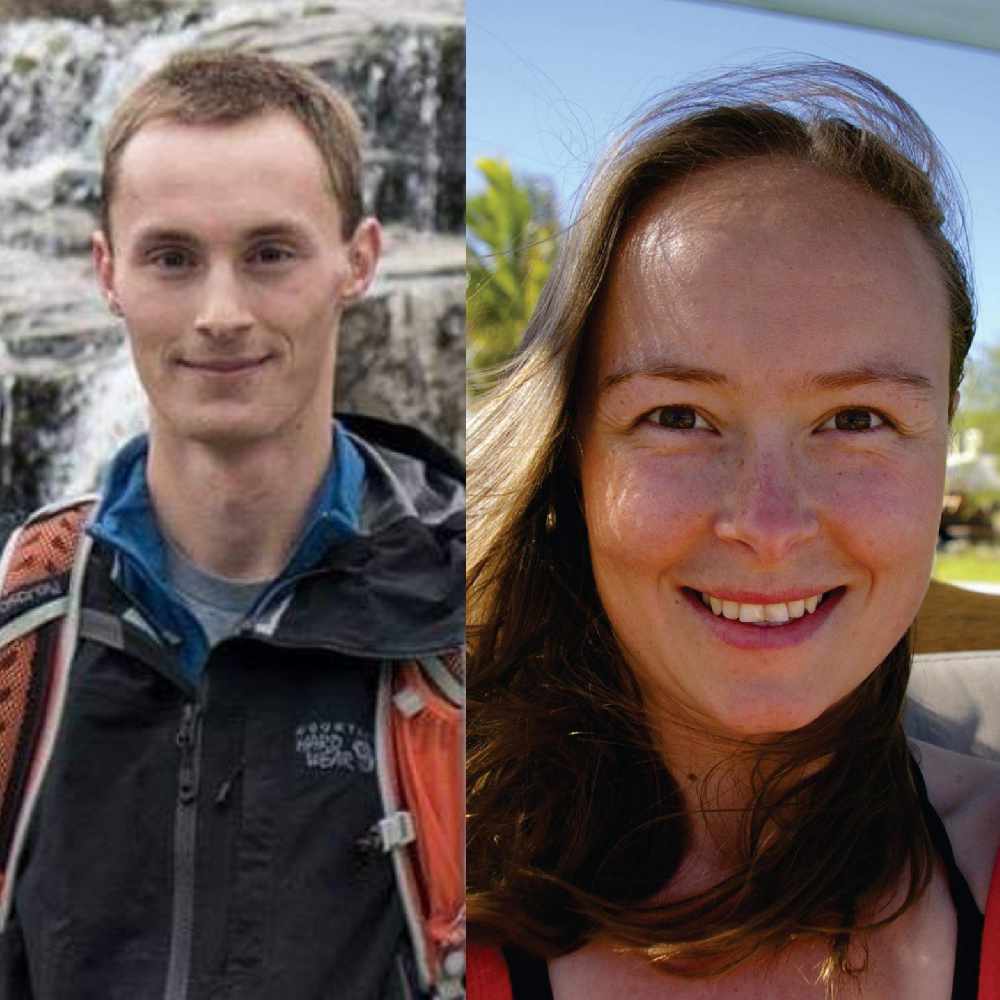 Pilot Shawn Kitchen (left) and geologist Julia Lane. (Photos: Facebook.)
A 24-year-old Whitehorse pilot and 33-year-old Vancouver geologist have been identified by the Chief Coroner as those killed in Tuesday's crash northeast of Mayo.
Yukon's coroner is releasing the names of two people killed in an aircraft accident near Mayo Lake.
The pilot is identified as 24-year-old Shawn Thomas Kitchen of Whitehorse, and the passenger was 33-year-old Julia Lane of Vancouver.
Kitchen worked for Alkan Air, while Lane was a managing partner of the geological consulting firm Archer, Cathro and Associates, who had been working in the Rackla area.
Chief Coroner Heather Jones says the Cessna 208 Caravan left the Rackla mining airstrip 150 kilometres northeast of Mayo at 11 a.m. Tuesday en route to Mayo.
Jones says the wreckage of the single-engine turboprop was located on the north side of Mayo Lake, about 20 minutes by air from Mayo.
Alkan Air Statement
A statement from Alkan Air released early Wednesday afternoon says everyone is devastated by the loss.
The company says Kitchen had been with them for over four years, and is deeply respected and loved. The statement says Lane was an incredible individual who will be sadly missed by many.
President and CEO Wendy Tayler writes the priority right now is the family, friends and loved ones of the two deceased and all of the Alkan Air family.
Alkan says they know the tragedy is being felt by many Yukoners and people across Canada, and condolences go out to everyone who has been impacted.
The Investigation
Two investigators from the Transportation Safety Board will be deployed from Edmonton Thursday.
The TSB's Dean Campbell says once they arrive, they will collect data, interview witnesses, and photograph the scene, then determine next steps.
"If the investigators can access it where it is, then they can start there," Campbell said. "As to what happens with (the plane) that will be up to the investigators to decide."
The TSB's Alex Fournier told the RUSH late Tuesday afternoon the plane was located on a mountainside and was difficult to access.
The coroner and Mayo RCMP also continue the investigation.
Premier Statement
Premier Sandy Silver says Yukon's aviation and mining industries have suffered an immeasurable loss.
A statement from his office says his colleagues and himself are deeply saddened about the accident and offer sincere condolences to the victims family and friends.
Silver says the government will provide all the support necessary to help with the investigation, and work with partners across the territory to prevent a similar event in the future.