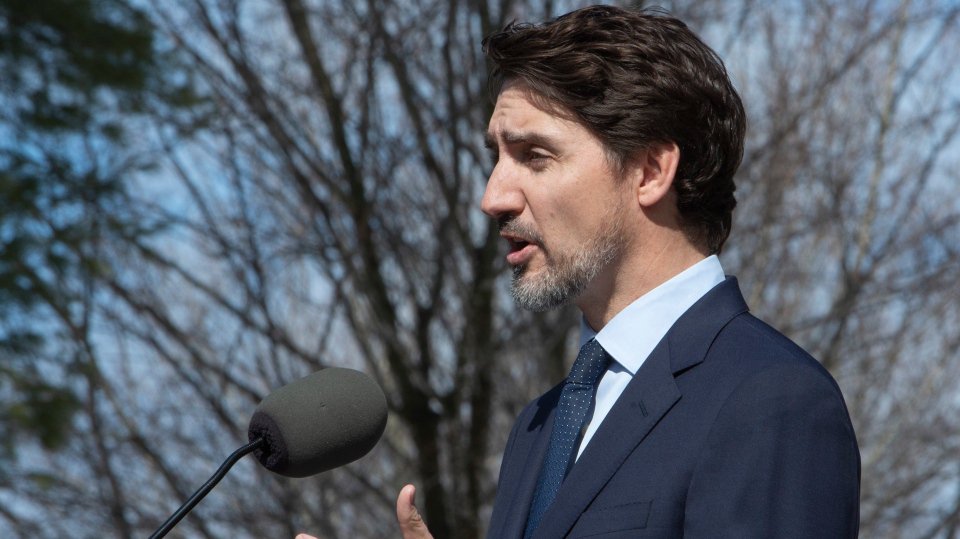 Prime Minister Justin Trudeau addresses reporters outside of his home on Friday. Photo: Fred Chartrand/The Canadian Press.
The federal government makes several announcements on Friday, while on the Yukon front there are questions about airport preparedness, as well as event cancellations and AWG decommissioning.
Prime Minister Justin Trudeau says while he and his children are remaining in self-isolation after his wife tested positive for the novel coronavirus, health professionals have told him he does not need to be tested unless he develops symptoms.
Sophie Gregoire Trudeau is now in quarantine following her diagnosis, and Health Minister Patty Hajdu says public health officials will be reaching out to everyone who had contact with her.
Trudeau says he will be working from home for the next couple of weeks, and he is keeping in close touch with his counterparts across the country and abroad.
Travel Advisory
A global travel advisory has been officially issued, urging Canadians to avoid non-essential travel outside of the country until further notice.
The advisory encourages those already outside Canada to consider returning home early and to make sure they have enough money and necessities in case their plans are disrupted.
Ottawa is also warning that some people may not be able to come home due to new border restrictions, flight cancellations and quarantines as a result of the COVID-19 pandemic.
Cruise Ships Limited
Transport Minister Marc Garneau says no cruise ships carrying more than 500 people will be allowed to dock in Canada until at least July 1.
The restriction will apply to ports in the North for the whole season because the risk from COVID-19 is greater in more remote communities.
This will undoubtedly affect the Skagway cruise ship season as boats will not be able to dock in Vancouver or Victoria.
He says the government is also planning to restrict the airports that can accept international flights, so people arriving on them can be more closely screened.
Garneau says the list of airports that will be included hasn't been settled yet.
Interest Rates
The Bank of Canada is cutting its overnight rate target by half a percentage point to 0.75 percent in response to the COVID-19 pandemic.
The last rate cut was last week when it dropped from 1.75 percent to 1.25 percent.
Meantime, Finance Minister Bill Morneau says the government is making $10 billion available to businesses through a credit facility program.
He says it was an effective tool during the 2008 financial crisis and will be again now.
Combatting The Virus
Canada's deputy chief public health officer is outlining some best practices for people to follow during the COVID-19 pandemic.
Dr. Howard Njoo says in general, people should stay about two arms'-lengths apart from one another.
He says it's safer to get together in small groups if everyone follows that advice, and the previous advice to avoid large public gatherings stands.
Parliament Suspended
Government House leader Pablo Rodriguez says all parties in the House of Commons will face the COVID-19 pandemic together and will get through it together.
To help ensure MPs do not contribute to the spread of COVID-19, the Commons will shut down for five weeks, returning Monday, April 20th.
However, Rodriguez says the Commons could come back sooner if an emergency requires a meeting.
Before rising, MPs unanimously ratified the new North American trade, which passed quickly in the Senate Friday afternoon.
Yukon Party Questions Airport Procedures
The Opposition Yukon Party is questioning the preparedness of the Yukon Government when it comes to travellers arriving at the Erik Nielsen Whitehorse International Airport.
During Thursday's question period, Watson Lake MLA Patti McLeod asked what precautions are in place to ensure visitors that have travelled outside the country are not spreading COVID-19 to Yukoners.
Highways and Public Works Minister Richard Mostyn says they are monitoring the situation with their federal counterparts.
"There are currently no changes to screening practices at the (airport)," Mostyn told the house. "However, we are preparing to implement any necessary screening procedures as a result of changing conditions in re-opening international flights this summer."
McLeod wonders if there should be people or kiosks at the airport telling those who have travelled to China, Iran or Italy they should self-isolate for 14 days as recommended by Yukon's chief medical officer of health.
As of this posting, there were no confirmed cases of coronavirus in Yukon.
Air North Update
Air North says it is stepping up cleaning practices on its aircraft in response to the COVID-19 pandemic.
President Joe Sparling says their standard practice as part of their daily aircraft deep cleaning is to use a hospital-grade cleaner and disinfectant which has proven effective against viruses similar to COVID-19.
He says, in addition, cabin crews and airplane groomers will be provided hydrogen peroxide-based wipes which is non-irritating to eyes and skin, but effective against a number of pathogens.
Sparling says besides wiping down galleys before and after each service, attendants will not be refilling personal travel mugs or cups, and will not ask passengers to keep their cups for the second beverage service.
Pillow or blankets will also not be offered.
Earlier in the week, Air North announced they use high-quality HEPA filters which are changed regularly and were waiving one-time change fees for flights between March 10th and April 5th.
Whitehorse Events Cancelled
Three prominent events set for the coming month in Whitehorse have been cancelled.
The Yukon Native Hockey Tournament was set for the weekend of March 27th, while the Yukon Comedy Festival was supposed to go starting April 2nd.
Press releases from both events say the decision was difficult but was the right thing to do.
Festival President Richard Eden says organizers are beyond disappointed considering the exciting, diverse, and talented line-up.
Yukon First Nations Hockey Association President Michelle Dawson-Beattie says the possibility of infection of any tournament participants was not a risk the board was willing to take.
Eden says you can contact the box office for a full refund, while Dawson-Beattie says more information on refunds will be released in the coming days.
Special Olympics Yukon has suspended all activities until April 5th, including the 2020 Special Olympics Festival Dinner Auction.
Ticket holders for the April 4th auction have the option of a refund or can be provided with tickets for the new event date.
AWG Decommissioning
Organizers with the Arctic Winter Games in Whitehorse have been rounding up supplies, distributing volunteer jackets, and selling off bunk beds since the games were officially cancelled.
General Manager Moira Lassen says supplies will be returned to stores, a garage sale of items will be held later this month, and ticket refunds begin this weekend.
Lassen says it's been an emotional rollercoaster at the office this week, as organizers had been pulling 16 hour days in the preceding weeks.
"Usually you go into a games tired, but it's an elevated state of being tired because it's all the excitement of the games," Lasson said. "But now they're coming in tired, and in sort of a depression because the games are cancelled. It's hard to dig yourself out of that some days."
As for ticket refunds, Lassen says if you purchased tickets in-person from the office, you can come to the office, and if you bought tickets online, you will be refunded online.
Internet Outage
NorthwesTel says service has now been restored to customers in Yukon, the Northwest Territories, and northern B-C.
The company's Andrew Anderson says service went down just before 10 a.m. and restored around 12:30 p.m. He says the outage was due to a fibre line cut in northern B-C.
"Service has resumed as normal," Anderson said. "Customers would have noticed that cellular service remained up. It was being prioritized over a backup network that did not experience an outage."
Anderson says crews are working to fully repair the line, but fibre cuts are a reality in the north.
He says the cut caused disruption to the internet, TV and long-distance phone services.
(With copy from The Canadian Press and reporting by John Kennedy.)
(Update 3:04 p.m Friday with Special Olympics Yukon announcement.)