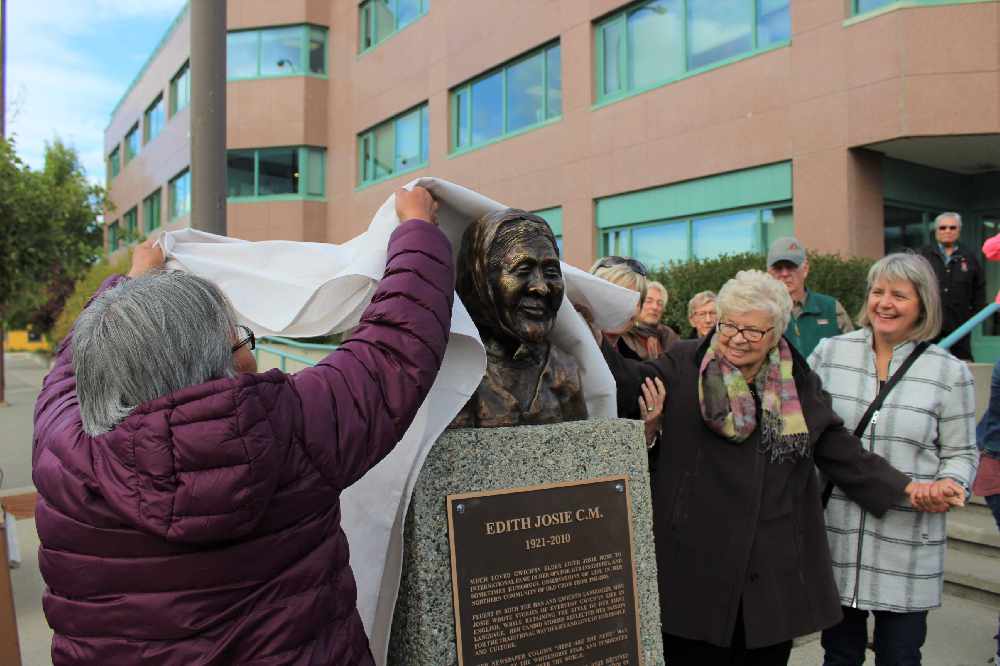 Edith Josie's daughter Jane Montgomery, (left) and Marg Hougen take the wraps off the bust Thursday afternoon. Photo: John Kennedy/CKRW.
Gwich'in elder and newspaper columnist Edith Josie now has a place on Main Street alongside other people who have made major contributions to Yukon history.
The eighth bust commemorating a Yukon historical figure is now in place in Whitehorse.
Family and friends of writer Edith Josie gathered at Fourth Avenue and Main Street Thursday afternoon for the unveiling of the work commissioned by longtime Yukoners Rolf and Marg Hougen.
Sculptor Harrison Tanner says the bust took about seven months to create.
"Edith lived for 88 years, and there was a lot to see in (the) pictures of her faces," Tanner said. "It was just an honour. You could see (the) joy in her face, and sorrow, and all of the different things she went through in her life. To try and capture that was the thrill of a lifetime."
Granddaughter Tammy Josie was grateful for her grandmother to be recognized in this way.
"I was working this winter, and I didn't realize what was going on, my family knew, and then I got a phone call," Tammy told the RUSH just before the ceremony. "I was speechless. I was shocked and speechless. Now I see the turnout, and our family is here, and we are meeting all these people."
Josie's newspaper column in the Whitehorse Star titled 'Here are the News' depicted life in Old Crow, and ran from 1955 to 2005. The column was also syndicated worldwide.
Another bust of Josie was unveiled two weeks ago in her home community of Old Crow.
The official unveiling of the Edith Josie bust on Main Street in #Whitehorse. pic.twitter.com/54h4CLB3qb

— Tim Kucharuk (@TimKucharuk) September 13, 2019